7

min read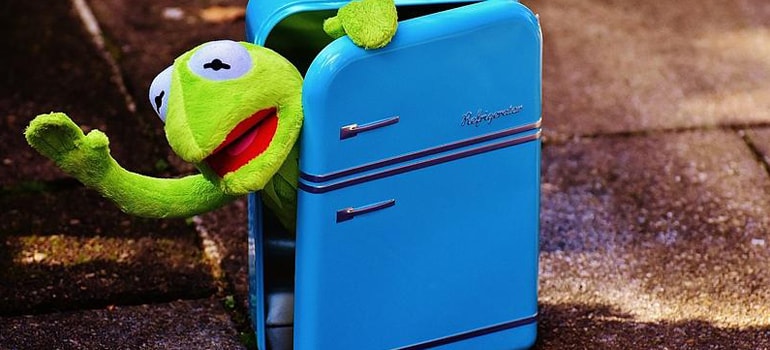 On the outside, your fridge may look like a complicated, but ultimately, a harmless cooling box. However, deconstructing the piece of appliance in an unprofessional and inexperienced manner could result with an abundance of harmful substances that, if handled incorrectly, can have a negative impact on our environment, not to mention Earth's ozone layer.
With global warming becoming an ever more alarming issue, it's important now more than ever to look into eco-friendly alternatives to how you dispose of appliances. When you're absolutely sure that fridge freezer repair is not an option, and the process of installation isn't something you're familiar with, then it's we're here to help! Look into our simple guide for disposing of old appliance and consider booking a professional fridge freezer installation service for your next piece of kitchen appliance.
But first, let's take a look at what makes your home appliance so dangerous to begin with.
Harmful Substances that Your Fridge Keeps Hidden from View
Let's consider this for a moment – according to a recent study, UK households dump approximately three (3) million fridges each year! And sure, while most of them exceed their expected 11-year lifespan, with some surviving 20 years and longer, a very small portion is actually recycled safely or at all. This means that large amounts of Chlorofluorocarbons (CFCs ) and Hydrochlorofluorocarbons (HCFCs) are released into the atmosphere each and every day.
With that said, let's examine why that last statement is a big deal.
CFCs, HCFCs, and the environment
In the 20th century, these two man-made compounds were seen as a safe thing to include inside aerosol sprays, refrigerators (as insulating foam or refrigerant), and in other products. But while they are indeed toxin-free and non-flammable, it was recently discovered that CFC molecules can break down if exposed to ultraviolet radiation.
In doing so, they release a chlorine atom that depletes the ozone layer. This essentially means that any prolonged exposure to sunlight can trigger that reaction. To prevent this, an international treaty, called the Montreal Protocol, was passed to permanently ban the manufacturing of any CFC and HCFC substances.
How to check if your fridge contains CFCs
If your appliance was manufactured in the 90s or even before that, then it probably contains Ozone Depleting Substances (ODS), such as the already mentioned compounds. Check the plate on your fridge to see its manufacturer, model, and serial number. The plate should also contain some information about the type of refrigerant your appliance uses.
CFCs and HCFCs include a variety of elements, such as carbon, fluorine, hydrogen, and chlorine. The substances are classified under different codes depending on when they were first manufactured, the most common of which are:
R11 (pre-1994): CFCs that were contained in fridge insulation;
R12 (pre-1994): CFCs that were used as a refrigerant;
R22/R141b/R142b (post-1994): HCFCs that were contained in fridge insulation;
R134a (post-1994): HCFCs that were used as a refrigerant.
What Are Some Safe, Responsible Ways to Dispose of a Fridge?
Sell it or make a donation
Provided that your fridge is still fully functional, you could move it to a friend's house or over at your neighbours. You could also make some money on the side by going to your local second-hand dealer for a quick appraisal.
There are websites whose sole purpose is to collect and reuse working appliances. And finally, you can always post your fridge on online platforms, such as Gumtree and eBay, although your fridge's transportation might be a problem then.
Visit your local household waste recycling centre
This will only work if you have a suitable vehicle and enough beer to bribe your friends to help you out. Make sure to call the HWRC in advance to check if they actually accept fridges, then adequately prepare your old appliance for the road ahead to prevent chemical spillages.
Hire the services of an electrical retailer
If you just bought a new replacement fridge (and you probably did), your retailer could offer you to dispose of your old appliance as soon as your new one is delivered. Since this is considered an extra service, make sure to have a spare £15 or £30 on you when the delivery crew arrives.
Notify your local council
While this is a cheap disposal option to keep in mind, be warned that your fridge may remain in place for quite some time as most councils have notoriously low response times. This means that you may end up waiting up to 2 weeks or more for confirmation. What's more, the waste collection team will not enter your property, so it's up to you to move the fridge outside.
Book a professional fridge disposal service
Unlike your local council, you can count on your waste removal company to be much faster, although the price will also be slightly higher. However, the waste disposal crew will be able to collect your fridge directly from within your property, saving you lots of time and an aching back.
When looking for a company, make sure that they are licensed with the official Environment Agency and call them to confirm if they can issue a detailed collection notice. If they can't and their services are on the cheap side, chances are that they will dispose of your fridge unsafely.
What Happens When Your Fridge Reaches a Recycling Centre
Recycling just about anything is a complicated process, and this goes double for things like refrigeration units. However, the end result is more than impressive – over 95% of the refrigerator will be fully recycled, regardless if it contains Ozone Depleting Substances or not!
Upon entering the recycling facility, your fridge is disassembled in a sealed environment. Technical mumbo-jumbo aside, here is what the safe fridge recycling process involves:
The compressor unit is detached. All oils and gases are then removed under vacuum.
CFCs are separated from the oil with ultrasonic equipment.
The fridge is shredded in a special environment, releasing the CFC gases within.
The gases are filtered out and the shredded contents are dried up.
The now powdery fridge insulation is sieved and collected for disposal.
Non-ferrous (iron-free) metals are separated from plastics for recycling.
The harmful CFC gases are cooled to -160 Celsius. This turns them into a liquid that can be safely evaporated at high temperatures inside a special incinerator unit.
3 Safe Fridge Disposal Regulations in the UK You Need to Know
In the United Kingdom, the government has introduced 3 legislative pieces that cover the subject of responsible fridge recycling. Let's take a quick look at each of these below.
Duty of Care
Going by the long name of Waste Duty of Care Regulations 2005, this is a law that affects not just fridges, but all household rubbish on the territory of England and Wales. Essentially, it postulates that homeowners have two choices when it comes to legal waste disposal:
You need to hand it over to a licenced waste facility (for example HWRCs).
You can hire a professional company, but it has to be officially approved by the Environment Agency and should provide you with suitable waste transfer notes.
Not complying with this regulation is treated as a criminal offence and can lead to civil liability in case your fridge and/or other waste has not been disposed of in an eco-friendly manner.
Removal of ODS regulation
Removal of ODS 2037/2000 is a regulation introduced by the European Commission, stating that all refrigeration units containing CFC or other harmful substances, should have said substances safely removed before they can be recycled.
This, of course, can only happen in highly controlled environments, such as those found in recycling facilities, so simply leaving the fridge near your local dumpster can net you a fine of up to £2,500 – and you may even be prosecuted!
Recycling and Recovery regulation
Called "The Waste Electrical and Electronic Equipment" regulations, they obligate everyone who manufactures, sells, distributes, and disposes of electronic equipment to either send used appliances to recycling centres or to include them in various reuse programs whenever possible.
Final Thoughts
With our species' environmental footprint becoming larger and larger, an eco-friendly mindset is more important now than ever. And it could all start with your old working (or non-working) fridge! But before you do the right thing and set an example for those around you, do your research and ensure that your fridge will end up in a recycling facility and not two blocks away!
And if it's still working, give it to someone who actually needs it. It won't cost you a thing and you will contribute towards lowering the number of refrigeration units that are being made each year.
Did you find this information useful? Do you know other ways to safely dispose of refrigerators? Let us know in the comments below. Now go and aid the collective effort of saving our planet!