8

min read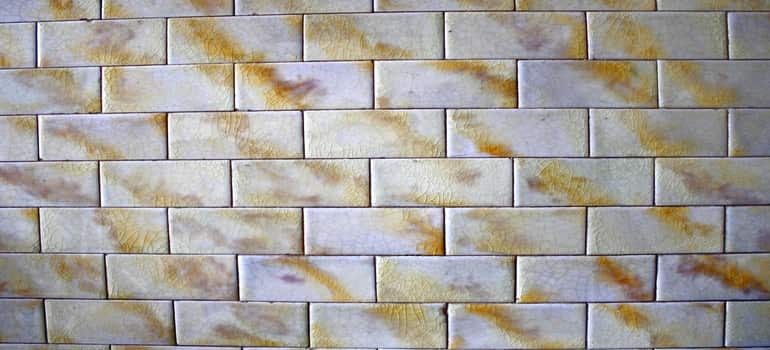 To prepare your walls for tiling is rather simple, as long as you have the right know-how, mindset, patience, and tools.
You can tile over a wide range of surfaces and textures but wall preparation is absolutely crucial. Before you get to it, you should level the bathroom, the kitchen and/or the hallway walls. Otherwise, a few complications might occur.
Also, keep the walls you are about to tile free of moisture, dust and grease. This way, the adhesive will stick properly and last in the long run (if you are using a good product).
Here are a few minor preparations before you tile a wall
Look out for signs of wall hangings, such as screws, nails or other types of fittings;
Get rid of loose plaster;
Tear down and remove old wallpapers;
Look out for signs of damage and cracks;
Fill larger cracks via layering;
Sand the wall to level it down if required;
Clean  dust and heavy particles;
Vacuum clean and wipe the walls;
Prime the surface prior to the tiling.
* Note: The technique of layering means for you to apply one layer of filler and let it dry before you apply the next coat.
Start with planning your wall-tile installation.
Do a precise measurement of the surface.
Count how many tiles you'll need.
Add another extra 10% to cover if a few break.
It's always helpful to keep a few more in case of future damage, especially wherever pattern and design matters. It is unlikely that you will find the same batch nor replacements, i.e. 6 months to a year after you've tilled the wall.
How to choose the right adhesive
There are various types of adhesives and to pick the wrong one can be daunting. Generally, there are a few types of adhesive you can use for wall tiles:
Ready-mix tile adhesives – mainly used for DIY (professionals use the below-listed)
Standard powdered – comes in the form of dust and requires water to mix. It is what pros mainly use. It also has varieties of its own. Some products are meant for tiles, while others for stonework.
Rapid set multi-flex – mainly used by the professional tilers at Fantastic Handyman because it dries off extremely fast and allows you to re-adjust the position of tiles.
Whether you're tiling your bathroom or kitchen splashback, the adhesive used should be waterproof.
How to level the wall
The simplest way is to use a long piece of flat timber and use it to check the wall for bumps yourself. Slide it across and change your perspective while at it. Bumps that don't exceed 4 or 5 mm are okay. Anything above would require extra care. If the wall is not leveled, the adhesive might lose its grip. If your adhesive layer is too thick, it might also fail to hold the weight of tiles regardless if you apply it to concrete, cement board, plywood, or drywall.
Make sure you understand the specific surface
Concrete, plywood, drywall or painted surfaces, tiling requires appropriate preparation. Fresh plaster takes up to 30 days to dry and wooden surfaces can use a layer of polyurethane paint.
Bear in mind that raw brick, blockwork, and cement are mostly uneven.
When you want to tile any of the above-listed, you should either render and plaster or use a tile backer board.
In this case, you should choose and use the appropriate type of tile backer board: cement, fiber cement, glass mat gypsum or water-resistant drywall. Tile backer boards are waterproof which makes them the perfect choice for near-sink areas, bath, and wet rooms. The best for bathrooms are marine plywood tile backers.
However, you will have to make sure that boards are tightly fixed to the wall.
How to tile on tiles?
Generally, you have two options.
You could either stick with your old tiles, and do your best to carry a successful retile, or chisel off the entire wall. Although the second is highly recommended, you can tile on tiles.
The one thing you should keep in mind is that to treat your old tiles with a grinding disc and clean the wall once done. This way you'll provide better surface for the adhesive to bond.
Tip: Avoid aligning your new pattern with old grouting lines.
What tools do you need in order to prepare an old tiled wall for a fresh installation
Paintbrush;
Paint roller;
Paint-on waterproofing;
Plastic sheeting;
Utility knife;
Stapler;
Dust mask;
Work gloves;
Safety glasses;
Cement board;
Straightedge;
Pencil;
Tape measure;
Keyhole saw for drywall;
Drill;
Wood screws;
Level.
What to do when removing old tiles is too hefty
Check for "hollow" tiles. The best way is to use your ears and knock-knock each piece. If you spot a hollow one, then remove it and fill the cavity. Otherwise, you risk your fresh tile installation to collapse over time.
It is crucial that the surface is clear from dust or any chemical products prior to applying any adhesive.
Most types of stonework can do for ceramic of vinyl tiles contrary to wood. Except plywood meant for exterior jobs, almost all other wood-based materials will require further preparation.
Prepare to tile over porcelain and ceramic tiles
If there is no other way, you can tile over porcelain and ceramic tiles as long as they are solid and can support the new tiling. However, if cost and budget-friendly, it is always best to take old tiles down because the old adhesive might succumb to the weight over time.
These materials are unfit for substrate and tiling:
Oriented strand board (OSB);
Pressed wood;
Particle boards;
Heavy stonework;
MDF (not used in bathrooms at all, due to being moisture permeable);
Engineered wood flooring;
Solid wooden planks.
How to prepare drywall for tiling
Fresh plaster needs up to a month for the material to set in and fasten. Once it's ready for tiling, there is no need to tape the joints.
Apply the last layer of skim coat and use a medium-sized sandpaper to achieve a rough texture. It is needed for the adhesive to bond well. Once done with the sanding, you have to make sure there is no dust and heavy particles left on the surface. Vacuum clean it, use a rag or a piece of damp cloth to wipe it. Make sure the surface is perfectly dry when you apply the adhesive.
For bath and wetrooms, consider moisture resistant plasterboard.
How to prepare old plaster for tiling?
It really depends on what is the age and condition of the wall. Many properties in London have latten plaster, which may be too old to support a fresh installation of tiles. If in doubt, the best way to make sure is to consult a professional. Technically it could work but If rendered unfit, it is best to remove it and use fresh plasterboard.
In some cases, gypsum might react when an adhesive is applied. That's why it is highly advisable that you apply an acrylic primer. All you have to do is merely prepare the surface for the adhesive. First, you have to take care of any existing cracks or holes. Once those are done, apply a thin layer of primer and let it dry off.  Sand one more time to set the ground for the adhesive to bond.
How to prepare painted or textured drywall for tiling
Either treat with PVA or a thin layer of adhesive (add more water to dilute and use it to prime).
However, first, you should remove any signs of paint not firmly or tightly fixed in place.
Then fill in the cracks and holes present, and use sandpaper to fix any uneven areas.
Make sure there is no dust or heavy particles.
Vacuum the wall and floor.
Use a rag or dry cloth to make sure everything is perfectly clean.
Apply tri-sodium phosphate to make sure there is no dust, oil or grease.
Important: Walls should be absolutely dry prior to tiling.
How to prepare plywood for a tile wall installation
You can use plywood for tiling floors but when it comes to walls, it is unfit. It contains oils that are sensitive to temperature changes. The heat will only loosen the grip of the adhesive. As plywood goes under a continuous change in size, tiles and grout can crack and cause irreversible damage.
Although wall tiles can't expand and contract, plywood can be used for tiling your floor. Professional tillers use PVA to seal the surface.
How to tile on wallpaper – can it be done?
Regular wallpaper is shinier and smoother, while lining paper has a more raw feel to it.
The easiest way to remove old wallpaper is with steam but it comes hand to hand with the risk of water damage and complications. That's why it's always safer to strip and sand. However, if you still want to cut down on elbow grease, make sure the material of your tile bed is not vulnerable to moisture (non-moisture-resilient drywall being one), otherwise, you might end up in need of heavy bathroom refurbishment.
One way of balancing time and effort is to simply soak the wall in warm water. Contrary to steamers, moisture won't penetrate as deep as steam would. Once the surface is soft enough, use a wallpaper scraper and remove to scrape everything off.
Just make sure the surface is dust, dirt, grease, and moisture free prior to applying an adhesive.