13

min read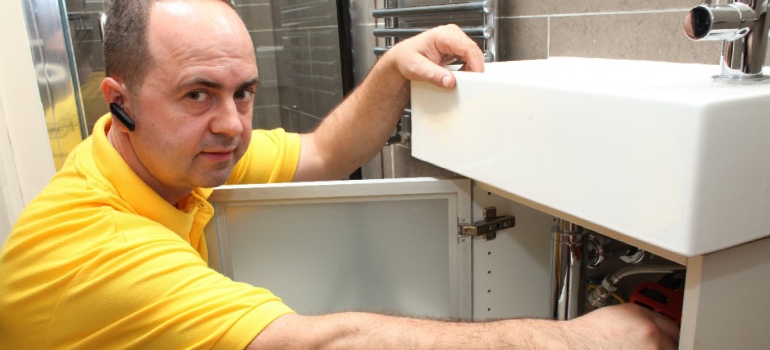 Clogged drain? Running toilet? God forbid – a faulty boiler?
Plumbing issues come like a bolt from the blue and cause troubles or significant damage to your home. So, when they happen, you need to be ready and act fast. A skilled plumber near you is what you need before the plumbing issue turns into a significant hassle.  "But how to find a local plumber I can trust? What should I look for?" we hear your voice. Fear not!
The "trick" is to do quick research to avoid unreliable "experts" whose mere intent is to do a half job. Follow this approach to filter out the closest to you real professional who will guarantee a job done right from the first time.  
But First: Why Is It Essential to Hire Trusted Plumbers Near You?
Did you know that water waste in the UK amounts to ~460 million litres each year? *Sigh* 
There's a simple fact behind these stats. Britons put off leaky issues over a month before calling a plumber. Not only leaks are "water torture", but they can cause severe damage to your home, neighbours, and have a negative impact on the environment. At the end of the month, expect massive expenses. The problem can even escalate if you call the first-seen pro on an ad, community board, or wait for a callback for days. Our point?
To find the closest reliable plumber is worth every minute. Here are 5 reasons it's best to look for a plumber in your area:
Fast response time

. To know that a plumber serves your area gives you the peace of mind that he can get to your site in a jiffy. Imagine how easy it will be to arrange a preliminary site visit, extra services, convenient time slots, and sourcing materials. And the list goes on…
Good understanding of your local-specific needs.

Locally based plumbers are familiar with the area, traffic situation, hardware stores, and come along with fruitful business contacts.

The technician can use all these advantages to meet your individual needs in the best way.
Valuable advice

. Apart from the repair works, a local expert will always give you advice on how to prevent issues from happening again (and what to do next). That said,

you receive long-term value for your money.
Better for you, better for the environment.

With local service, you won't be charged for tradesmen travelling to the job. Plus, fewer miles means fewer carbon emissions.
You support the local economy

. When you book local plumbing services, you help the specialists in your region to grow. This means you solve your problems and help more hard-working people to find jobs. 
Consider the above not merely as reasons to hire the nearest plumbers. They are seals of quality.
Company or Local Plumbing Repairman?
It's not hard to approach plumbers in your area. But getting them to work and building a long-lasting relationship is. That's how we distinct individual businesses from a well-established company. When you feel you are in a dilemma, consider:
Pros and cons of a one-person business
Pros
Low marketing costs & simple business model means affordable price;

Open for price negotiations;
Cons
Longer time to complete a complex project;

Less control over work;

Some are too busy to take on regular jobs.
Pros and cons of a recognised company with district experts
Pros
Large crew ready to cover evening hours, weekends, bank holidays;

Online reputation and easy check of the company's track record; 

Geared to growth: focus on skills, qualifications, certificates, licenses;

Proactive communication with you (no voicemail messages);

Strict control over plumbers' health during epidemic/Coronavirus pandemic.
Cons
It might be a higher plumbing rate;

Different pros for different projects can be intrusive for some people.
Need a Plumber Near You?
Enter your postcode to view our rates and availability in your area.
The Challenge: How to Find a Local Plumber You Can Trust?
We all call plumbers when we face a plumbing emergency. With growing anxiety, you can call a random company or any available specialist at the moment. Don't opt for this route. To avoid an unforeseen mishap, follow these simple instructions and make an informed decision.
Step #1. Call the right local tradesman
Before you approach a local specialist online,
make sure your need is in the specialist's range of expertise and experience
. While both plumbers and heating engineers work on pipes, the difference can often be significant.
Wondering who the right specialist for your issue is?
Consider a plumber when you have a leakage, blockage problem, or fixture installation.

To handle these issues, plumbers are not legally bound to have a special qualification. Better still, pick trained and supervised local professional. 

Find a nearby gas-safe engineer for work on gas lines/appliances, boilers, and unvented cylinders

. Focus on their accreditation and experience to cope with boiler and gas line jobs.
Well, you may find plumbers that are qualified to work on heating appliances
. However, when you
need a boiler replacement or repair service
, opt for professionals that are gas-safe registered and are aware of the UK's safety regulations. Remember how dangerous a faulty boiler would be for your family's health and property if left in the hands of an uncertified engineer. If you want to admire professional and secure work, it's best to check for:
Membership with the Chartered Institute of Plumbing and Heating Engineers (CIPHE).

.

This is a local authority, so consider their sites a good place to find a dependable plumber.
Step #2. Seek for plumbers ensuring your health and safety
In concerning times like the COVID-19 pandemic, you need to be very careful when choosing an expert to handle your emergency plumbing repairs. Our advice to protect yourself and the loved ones is to look for local plumbers who strictly follow the NHS and the British Government requirements. So, before you book and invite a specialist in your abode, ensure that he:
applies enhanced personal hygiene;

passes daily temperature screening;

uses proper personal protective equipment inside the properties (facemasks, latex gloves, overshoes, etc.);

observes the recommended distance during the time they are doing repair/installation works; 

uses disinfectants before entering your home;

sanitises the equipment, tools, and all surfaces he touches in your home.  
Step #3. Word-of-mouth
To ask for referrals is "old school" but still one of the best ways to find plumbers near you. References will help you to determine their work ethics, reliability, and punctuality. So, here's how to find recommended plumbers and judge their reputation:
Ask those who you trust.

For instance, family members, neighbours, friends, and colleagues. If they have a plumber they like, hear their story about how the job has worked.

If you settle into a new home, meet your neighbours

. Ask them who they book for plumbing repairs and installations. 

If you are scarce of ideas where to find a nearby plumber, the neighbourhood hardware, plumbing-supplies or fixture stores are gold mines.

You can even meet a plumber on the spot.

Ask for advice from other local tradespeople and builders.

People in the trades branch know themselves and often work together. So, why don't you ask them for recommendations? 

Harness the power of social networks — request

f

eedback from strangers on Twitter, Facebook, and Instagram.

A minus here is that you can waste an hour (or more) on reading not authentic reviews. Still, it's worth trying.
Yet, recommendations are sometimes tricky and tough on details. In 99% of the cases, you find they don't come with bio, professional background, or a photo. Just a pile of promotional info. Then, it's best to get more from the source. 
Step #4. Research online
Google Portal is the best place to go on a self-directed Internet journey with near-instant access to information. 
Start by typing "
plumber near me
" and build a shortlist of a dozen companies in your area. Go through their websites and presence on Google Maps. Then, match all the features and benefits the plumbing candidates offer. 
As you need to match so many options, you might become sceptical in your research.
Here's one tip that will save you a TON of time.
Step #5. Read on-page reviews, success projects and testimonials
Some can
say,
"Our local plumbing services are the best". Ignore them! 
If not connected with benefits and customers' unbiased feedback, these are only meaningless, self-appraisal, overly promotional (un)descriptive words. Believe them if proofed with
real
acknowledgement.
So, make extra efforts to scour:
Testimonials, authentic reviews, success stories and project pages that talk up the benefits

. They will build hefty-social proof in your mind and give the EXACT information on

what, why, and where

the

others book this service.

Websites that set personality.

That's how you will meet your local plumber online for the first time. Top-rated plumbers expose teams, real photos, activities and trades at a central place on their pages. 
Step #6. Search in directories and rating sites
Chances to find reputable plumbers increase when you look into
online business directories, rating sites, local forums and niche-specific blogs.
Bad news:
Sometimes, it's easy for rogue traders to get listed in online directories. That's why search for credible rating sites/directories checked for authenticity. Listings shouldn't allow anonymous reviews.
A few good classic examples are:
YellowPages.com

– among the biggest directories;

Yelp.com

– here you can check reviews, find lists, events, and contact other Yelp-ers;

Houzz.co.uk

– show up company projects to select a plumber out of the crowd;

Truspilot.com

– enable search by rating stars;

Threebestrated.co.uk

– here you can find top 3 plumbing service providers for your specific location.
To choose a company over others, search for plumbers with more positive reviews than negative. 
Be wary and don't assume that the closest plumber (usually first results on listings) is what you need. Many reputable franchise companies, such as Fantastic Handyman, serve a large territory in the UK with resident plumbers and heating engineers. This means: less reliable companies can appear in top positions compared to some recognised ones.
Step #7. Pick from reasonably priced plumbers
First
, before you pick a plumber in your borough, try to receive at least 3 quotes. It's not only about the money you will pay but for the works included [or not included]. An unwritten rule is, the more complex the project, the more quotes you need. 
Second
, you may find a cheap plumber with almost no effort. But in most cases, highly focused professionals come with expert authority and higher service costs.
Before you assume the price is too high, we remind you that the professionals know exactly how to help you. Hence, know-how is what saves you money down the road. 
To take good care of your finances, this information will give you an idea of the best (or hidden) plumbing price practices:
"The lowest rates" are sometimes the trickiest.

Double-check for omissions of specific works, specialist's knowledge, and possession of licenses (usually not cheap). 

"Pay me by the hour, not by the job" offer comes with a plethora of benefits.

The biggest plus is that you only

pay for the time spent on a job

. To avoid overcharging for the small task, direct your efforts toward a company with half-hourly rates. Though, always ask for an upfront price and invoice upon finished work.
Check also:
The Nuts and Bolts of Choosing a Handyman
Precautions you should take to ensure you find a good plumber
Many services, price items and alternatives bring confusion and are overwhelming. Even worse, you can come across a "cowboy" plumber.
Well, you want to know what those factors for finding a good plumber around you are, don't you? 
The key is:
Count on a well-established company that offers a tailor solution and try to make things easy for both sides. Likewise, check all points below to differentiate the rogue plumbers from the good guys who will save you time, money, and frustrations:
Make sure the company has an official business address, telephone number, e-mail, and opening hours. 

Check if the firm offers a

guarantee

for fixing what went wrong. If a plumber doesn't guarantee a job, it means he doesn't expect it to last.

Insist on competent and experienced experts in plumbing or gas and heating services;

Never accept verbal assurance. Ask for a written quote, specification of work, an e-mail confirmation of all discussed details. On the one hand, you will confirm the rate/price against the competitors. On the other, it will serve as proof if a tradesman comes with slick sales tactics.

Demand a photocopy of Public Liability Insurance. To book an insured plumber is not a must. But this will give you the peace of mind that it will cover everything in case of damage or injury.

Find out if the potential plumber(s) are safety compliant for trouble-free service. 

Ask whether the plumber brings with him all the needed tools. Fantastic plumbers will never ask you to supply or rent instruments on your own. They will even suggest buying the plumbing materials/fixtures if you need.

Assure that the plumber won't cause a mess. An efficient plumber works with an eye to details, carefully and finally, you don't have to clean up when he left.
When a company doesn't tick your trust points, put its name in your "bad" tradesman list and keep on searching for the best plumber in your area.
How is Fantastic Handyman performing plumbing jobs during the COVID-19 outbreak?
Whether you are struggling with a leaky tap, faulty shower, blocked toilet or an issue that causes interrupted freshwater supply, Fantastic Handyman can help you out, despite the pandemic circumstances. We are allowed and keep on delivering our services in the safest possible way. 
The well-being of our clients, team members, and customers are of paramount importance. Therefore, all the technicians, we work with, pass daily body temperature checks, wear personal protective equipment (PPE), maintain a 2-metre distance, and follow all the cleanliness and sanitisation precautions set by the authorities. To ensure that the service will go flawlessly and as safely as possible, we developed a health and safety guide for all team members. 
So, don't hesitate to book your convenient plumbing service to keep your home running smoothly as it should. 
Need a Plumber Near You?
Enter your postcode to view our rates and availability in your area.
Takeaways
To find a nearby plumber and deliver your plumbing project on time and budget, first, identify your needs and start thorough research.

The best results come when you choose a risk-free, secure, and insured service from a company that will never leave you unsatisfied.

When you find a good plumber near you, be proactive. Book your service early to prevent monumental problems. And don't forget to save the contacts!