8

min read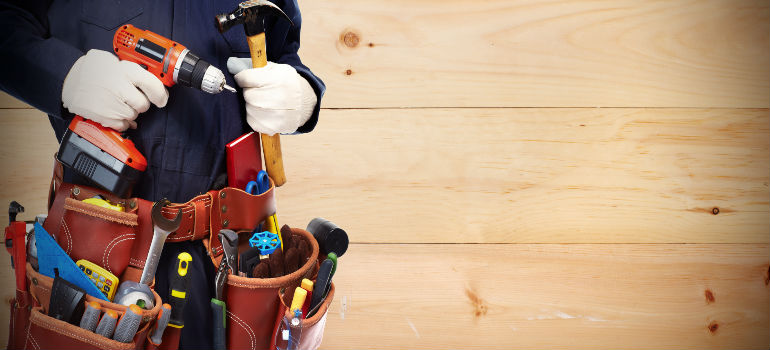 Just about any service that involves people coming to your house, has its risks. Risks of being swindled, risks of having to do with unreliable "professionals" and more.
Do you have a Stack Load of Maintenance and Repairs To Do's?
Chores around the house can often take up a lifetime or two to handle, not to mention some tasks require specific handyman know-how and tools most people don't really have. You have most likely already decided that you could use the help of an experienced and professional tradesman, but you don't know what the nuts and bolts of choosing a qualified and fully licensed handyman are. While it is almost impossible to make a proper handyman background licensing check, which surely makes it even more difficult to find, choose and hire the right handyman, it isn't beyond the bounds of possibility.
The main goal when in search of reliable handyman services is to gather as much as information possible about the background and liability of the company or handyman prior to making a choice. Since the average homeowner, landlord or tenant can not simply demand licensing information from the state, we can propose a different way of dealing with researching companies and solo providers of handyman services in London. Without further delay, let's find out what handy advice is there to help you find a handyman to tackle your specific situation.
How to Recognise a Good Handyman?
Since it's the 21st century, you will most probably look for a handyman online. And you probably know that a local handyman will come with a lot more affordable price range for all the services they offer.
You will have to pick one out of two options: either trust a well-established and well-known company for handyman services or hire a local handyman, each based on its own set of factors.
How to choose from well-known and established handyman company brands?
Depending on the scale of maintenance or size of repair, gather a list of up to 7 or 8 reputable tradesman companies online to compare what each has to offer. Rather than looking at websites, try to focus on customer feedback and reviews. If you do not have much luck on Google, try some of the other authoritative websites such as Yelp, Yell, etc. If determined enough, don't be scared to try other search engines like Bing, DuckDuckGo and etc.
Choose a tradesmen company that guarantees excellent execution of all handyman services.
Make sure all handyman companies narrow the choice to list all services on their website.
Be careful with the bigger tradesmen companies, because you usually don't know anything about the tradesman who will carry out your project. Check if all technicians are properly screened before becoming part of the handyman company.
Inspect if the company you choose is a member of any niche association. The Handyman Association, The UK Guild of Handymen, The Guild of Tradesmen and etc.
Each and all handymen should carry ID and photo identification, including proof of appropriate licensing.
Ask for estimate quotes. Make sure you procure and compare multiple prices as opposed to hiring the first handyman on your way. Ensure you get an odd jobs experienced technician that provides good value.
Inspect what and how good is the company insurance and all employees are bonded. Some companies will proudly state they have insurance, while full liability differs from limited responsibility. Demand a certificate of insurance.
Prior to hiring a handyman, make sure you ask for a written quote. Only a written piece can serve as proof in case of unforeseen attempts for extra charges, although due to the nature of occasional maintenance, minor repairs and of course bigger jobs, such is indeed possible. The idea here is to keep control of what's reasonable and what's a tradesman scam.
Request an experienced handyman that specialises in residential (or commercial if meant for your business) repair and maintenance. You should never take the risk of being "bumped" by a handyman first-timer or for a bigger job.
Review the company portfolio when it comes to aesthetic painting and decorating services. It is crucial to inspect the final result of services such as bathroom, kitchen, office or home refurbishment is.
Your handyman service professional should provide you with a specific and confirmed appointment, and then follow through. You should clear out with the company when the job will start and when approximately the technician should have it done.
Employees must possess excellent communication skills. Sometimes the job at hand might not be what you initially thought it would be, and it's crucial for a tradesman to be able to problem-solve to a handyman solution together.
Professionals always bring their own handyman tools and materials. A fantastic handyman would never ask you to supply such on your own.
A professionally run handyman service provides employees with the necessary supplies to do a variety of jobs without wasting time running out to hardware stores for basic items. Of course, due to the specifics of handyman services, that isn't impossible to happen.
Ask if the handyman has access to any discounts on supplemental materials or tools in case you need to use such. This should not be a priority factor in choosing the right tradesman, but in some cases, it sure comes in handy.
Find handymen that prove their work with success stories, projects, and plenty of real photos. Local projects like decking installation, carpentry service, and bespoke furniture, give details about the actual steps, the time they take, and how much it would cost you. So, you can easily get an idea of the project scope, quality of work, and estimate.
A reputable handyman service should only charge you while your handyman is working for you. You should not have to pay a charge to have someone simply show up, or for the time to drive to your home.
Your handyman should respect your home. He should always work both efficiently and carefully. The conscientious handyman cleans up after the fix-up or maintenance job is completed.
Need a Handyman?
Enter your postcode to view our rates and availability in your area.
How to take a more local approach to choosing handyman services?
Research and gather a list of local handymen in your area.
Check which specific fields of maintenance and repairs each local handyman specializes in. When you have a plumbing repairs emergency you would surely rather go for a professional plumber, than a qualified electrician.
Compared estimates of local handymen and major handyman companies in order to choose the right balance between value and price.
Check for local testimonials and confirm with neighbours, friends and family. The tricky part with local handymen is the trust factor because it is harder to track previous reviews and feedback.
You want to look for a handyman that has several years in business and preferably a handyman who is well-established in your community.
Search for a local handyman that has connections to the community. What types of local business and community organizations does he belong to?
A few different points to consider when detailing a project to a handyman:
Make sure to be clear with the handyman about when you expect him to start on your project and when you expect him to be done by.
If you will be adding to or altering any existing construction on your property the handyman better be familiar with local code requirements.
Make sure you get any and all guarantees in writing.
---
---
How to Book a Handyman?
Finally, once you've chosen the right website and you're certain these are the people you want to invite into your property for a quick fix, here is the booking process you should go through.
You can call by phone, or use an online booking form. Your request will be accepted and you will be transferred to a customer service representative.
You will be asked to provide the following information: your name, your full address, phone number and email (if you have one) and of course, the type of job you need to be done.
You will be asked questions about your property and you should give as much detail as possible so the call centre agent could make the best-customised quote for you.
You will then receive a free quote on your phone and/or email with the details of your service and the estimated end price.
If you're okay with it, you will be asked about a date and time for your visit, information about the parking options in your neighbourhood, as well as a preferred payment method (cash, by card, bank transfer).
Once you provide this information, your booking will be confirmed and you will receive it in a written form on your phone and email.
Image Source: kurhan/shutterstock.com