4 steps to get your office refurbishment service
1.

Schedule your on-site survey for the day and time that suits you best.

2.

Get your fixed-price quote

We will send you a personalised quote within 24 hours of your survey.

3.

A team of fully prepared professionals will be ready to start your project.

4.

Get the best out of your renovated office environment.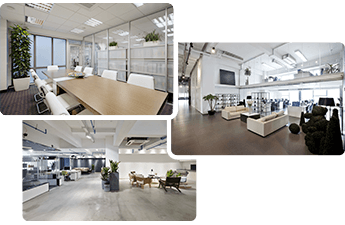 Get expert office refurbishment to unleash the full potential of your workspace
Updating and modernising your present workplace can help to improve the office environment and increase efficiency while saving money at the same time. An office refurbishment is a great way to uplift your space without having to move.
A well-planned office refurbishment is integral to the success of any business. It can improve workforce productivity and pride and create a more efficient and flexible work environment while attracting and retaining top talents - in addition to improving the connection with your partners and clients.
Regardless if you need to modernise an existing office or give your new commercial property a flying head start, Fantastic Handyman will always meet your demands on time and stay within your budget limitations.
We offer a wide range of office refurbishment and fit out services.
From comprehensive refurbishments of multi-story offices to smaller fit outs such as installation of partitions, washrooms, kitchens, and suspended ceilings - no job is too big or small for us! Our team of skilled craftsmen and technicians strive to complete each office refurbishment project with outstanding quality while delivering it on time, which is how our business has gathered a great reputation and earned the loyalty of our clients.
Here is a quick overview of our process:
We will discuss all your preferences and needs, so we can provide an accurate quote.
Based on your design, we will create a work schedule to ensure the smooth and timely completion of the office refurbishment or fit out.
We will adapt to your work schedule and keep the disruption minimal.
We will work hard to ensure you are completely satisfied with the final result.
Why choose Fantastic Handyman for your office refurbishment in London?
Office refurbishments done by an experts
You can rely on our office refurbishment services and fit outs, designed to suit all your needs. We know how important it is to keep your office environment up to the latest design trends and diverse styles of working because your business is changing, and your office space should reflect that. As a London-based office refurbishment company, we have worked on numerous projects, so the experienced and insured professionals know how to deliver the highest quality results.
Modernising existing premise
Each office refurbishment project is different and can include rearrangement of the existing space, zoning the area by using furniture, installing partition walls, turning shut off rooms into an open office layout to create collaborative office space or providing extra desks for your growing needs. So whether you need to renovate your meeting rooms, staff areas, to create individual shared office space or hot desking facilities, we will help you turn your design into reality.
No job is too big or small
Our expert team is experienced in all aspects of office and commercial fit outs, no matter if you move into a new place or need to renovate your current space. It doesn't matter if you wish to renew the floor coverings or simply paint your walls or ceiling in matching colours – the fit out specialists will stop at nothing until every step of your office refurbishment plan has been fulfilled.
Honest pricing policy
You will receive a detailed price estimation within 24 hours of your survey. There, we will list all office refurbishment costs for each stage of your project – from labour to material; every bit of spending will be calculated down to the last digit. This way, you can rest assured knowing you'll get your money's worth.
All materials are delivered straight to you
The office refurbishment experts will diligently choose and deliver all materials your project requires to your property. Share your layout ideas with us, and we'll take care of the rest.
Quick and efficient project performance
The experienced Fantastic Handyman professionals have completed many office refurbishments, so they know the importance of doing the job quickly and with minimal disruption to your work schedule. We will keep you informed in every stage of your office refurbishment and ensure no mess is left behind with the service completion.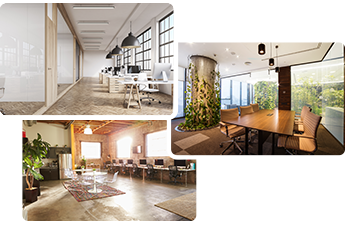 Frequently asked questions
Q: What is your coverage and availability?
A: You can book your office refurbishment 7 days a week, including bank and public holidays. We can work after hours and adapt to your requirements. We can send qualified local teams anywhere within the London M25 zone.
Q: How much does it cost to refurbish an office?
A: The cost may vary based on the project scope, the materials and all the requirements. That's why we will conduct an on-site survey and go through all the details, so you can rest assured no hidden fees will arise.
Q: Do I need planning permission for an office fit out?
A: Generally, no planning permission is necessary for interior design changes. However, you will likely need to secure building regulations approval to proceed with the project.
Q: Do I need Landlord consent for an office refurb?
A: When it comes to office refurbishments, a landlord's permission is usually required. Most commercial leases have some stipulations that the tenant must adhere to regarding alterations and improvements on the property. Therefore, those wishing to update their office space should ensure they fully understand what is allowed according to the lease agreement.
Q: How long will it take?
A: The time frame is based on the size and the project's unique requirements. We will discuss the details with you and include the information in your quote. We will make sure to finalise the project at the agreed time with as little disruption as possible caused.
Q: Can you help with a storage space during the renovation?
A: Yes, sure, we can organise your business removal process, provide short and long-term storage facilities and take care of all aspects of storing and moving back your office furniture and equipment.
View all questions
We can do much more than office refurbishment
Your Satisfaction Keeps Us Growing
Get a personalised service based on your budget and requirements
Become a Fantastic Handyman
Set up your own handyman franchise business with a minimum investment.
Join now