6

min read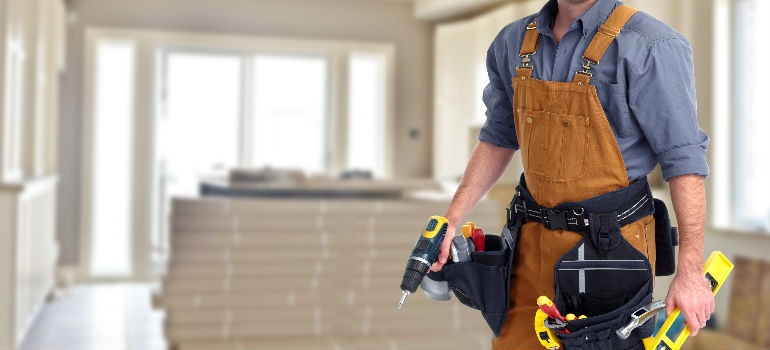 There are always little odd jobs that need to be taken care of in the home, whether it is fixing a wobbly chair leg, tightening a leaking pipe, or just hanging some pictures.
These days when something needs to be repaired, or if you would like to start small home improvement project, most people have to ask their parents for the tools or hire a handyman.
But everyone, regardless of whether you are a homeowner or renting, should be able to tackle small DIY projects and have the tools to do so. There is a sense of accomplishment and steadfast independence gained upon successfully completing even the smallest of home maintenance tasks, that is why everyone should have the following tools in their home.
With these tools, you will be prepared to tackle all but the largest and most complicated jobs in your home. Now, before you rush out to go on a tool shopping spree there are a couple of things to keep in mind.
Quality over price.
There are plenty of DIY stores and other high street retailers which sell complete toolkits for as little as 15GBP (I don't have the pound symbol on my keyboard). Resist the temptation presented by such 'bargains' as these tools will generally break after a few uses costing you more in the long run.
Although quality tools are more expensive they will last a lifetime, if you are not sure about the quality just ask the staff in your local DIY/hardware store and they will be more than happy to point you in the right direction.
Take your time.
Buying tools is expensive, especially if you focus on quality over short-term savings, but you don't need to buy everything at once. Take your time. You can buy one or two tools each month and ask for tools as presents on birthdays, Christmas, Father's day and any other holiday which warrants a gift.
If your child is about to move out of the parental home why not gift them a well-stocked toolbox instead of money.
#1. Flathead screwdriver
Although flathead screwdrivers are not needed as much anymore, you should still keep one in your toolbox just in case. Excellent for dislodging things stuck in gaps, prying open tins of paint and of course for driving in some older screws.
#2. Phillips screwdriver
The Phillips screwdriver or star pointed screwdriver, is a must-have for any toolbox. You will use it for almost every DIY project from building furniture, fixing children's toys, general furniture repair to opening your laptop to clean the fan.
---
Check also:
What to Use if You Don't Have a Screwdriver
---
#3. Tape measure
Tape measures are an indispensable part of any toolbox, as the old proverb goes "measure twice, cut once". They are useful in many situations, such as measuring a room for new flooring, checking whether or not there is space for that new piece of furniture you have your eye on and they are fun.
Who, as a child, didn't play with their parent's tape measure? Extending it all the way out, locking it and then letting it retract and doing a little spin on the floor.
#4. Level
When you are putting up shelves or hanging a painting a straight line is crucial, nobody wants their belongings to slide off of a shelf or to look at a crooked painting or picture. This is where a level comes into its own. Using a level ensures that things are…well, level. They are also extremely useful for sketching straight lines on surfaces to use as a guide for any screws or nails.
#5. Utility knife
You will never run out of uses for a utility knife, they are needed in almost all DIY projects. Most commonly used for opening boxes, trimming the edges of a carpet as well as cutting plastic and dust sheets, the utility knife may not be the most exciting tool in your toolbox but you will quickly discover it is better to have one than not.
#6. Claw Hammer
Used for driving nails in, pulling nails out, tapping things into place and acting as a crowbar, the humble hammer is truly a multifunctional tool and central to every good toolbox. When buying a hammer avoid ones with a wooden handle (despite the nostalgia of watching your grandfather wield a wooden handled hammer), choose one with a long-lasting synthetic handle instead as wood tends to break after a while.
#7. Pliers
Pliers are a great addition to any toolbox, particularly useful for providing extra grip when tightening or loosening nuts on furniture. Pliers can also be used for bending and shaping metal, cutting and stripping wires as well as providing extra leverage for pinching the metal clips which hold some of the pipes inside your washing machine in place.
Need a Handyman?
Enter your postcode to view our rates and availability in your area.
#8. Crescent spanner
This is a spanner with an adjustable head which fits every nut and pipe joint you will find in your home. You will be pleased to have this tool in your home when you drop something down the drain and need to undo the U-bend under the sink or when your child's bicycle needs to be repaired. Check out our guide 'What to use if you don't have a wrench' for alternatives until you can buy a spanner.
#9. Hex key or Allen key
Anyone that has assembled flat-pack furniture can tell you of the importance of Allen keys. The majority of modern flat-pack furniture requires the use of an Allen key, instead of relying on the tool which is included with the furniture it is advisable to buy a set of varying sizes or a hex key multi-tool (they look like Swiss army knives but with Allen keys instead of tiny scissors and tweezers).
---
Check also:
What to Use if You Don't Have a Wrench
---
#10. Power drill
Sometimes a screwdriver is just not enough to get a job done, driving screws into walls and hardwood is a long and difficult process. With a power drill (corded or cordless) you can easily drive in or remove screws and drill holes in walls in preparation for shelves, definitely, a must have for home DIY projects.
#11. Putty knife/Scraper
These flexible metal tools are great at scraping away old, flaky paint and glue as well as spreading Spackle to cover up holes and scratches in walls.
#12. Torch
Repairs can be needed in the dark areas of your home, various items can fall behind furniture and washing machines or there can be a power cut, all of which require the use of an external light source. Plus everyone wants to help by holding the torch for you.
#13. Ladders/Stepladder
From changing light bulbs, trimming the garden hedge, to putting up Christmas decorations, ladders are incredibly useful and much safer than using a chair or stacked boxes. Invest in a good, sturdy
#14. Extension cord
A durable, well-insulated extension cord allows you to use any, or all, of your power tools when there are no nearby plug sockets letting you reach those hard to access areas such as ceilings and the tops of kitchen cabinets. They are also incredibly useful for garden maintenance tasks like mowing the lawn (just be careful not to run over the extension cord) and trimming hedges.
#15. Pencil
When you are making improvements or repairs in your home, there are times when you need a pencil to mark specific areas such as where screws should be placed or where something needs to be cut. You may have whole packs of pencils at home but when you really need one they are nowhere to be found, to trick the pencil-hiding gremlins keep a sharpened pencil in your toolbox.
Image Source: kurhan/shutterstock.com