9

min read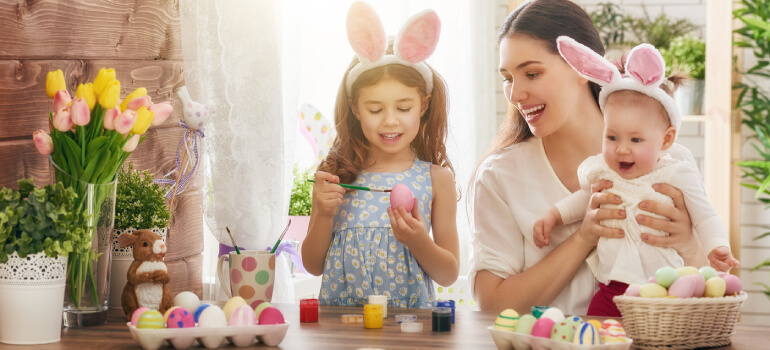 The Easter bank holiday is just the right time to plan and complete some simple but effective home renovation tasks. It's also a nice moment to spend time with your family, decorate your house, cook some delicious meals, and feel the Easter spirit.
So let's go through some of the most popular Easter traditions and how to incorporate them into modern times. Also, you can find some things to do with your family with things you already have around your home!

The origin of Giving eggs
Giving eggs around Easter is actually a tradition that has its roots back in the 1200s. This is when lower-class citizens in England used to gift them as a present to their lords.
Naturally, nowadays we might find ourselves distant from this ancient custom, as times and people are constantly evolving. What had meaning before, is no longer relevant. But that does not mean that we cannot still enjoy these old traditions, give eggs as presents to our friends and family and use them to decorate our homes.
In modern days Easter is not just a holiday but also a symbol of the transition between seasons, so let the spring season spirit come into your home and continue reading.
1. Create an Easter decoration display spot
Install a shelf that you can turn into a holiday altar. Place a couple of family photos, easter eggs, and other bright and fun decorations. This way everyone can enjoy this small Easter corner, and any more expensive pieces of decor will be far away from your kid's reach.
You can spend time with your children and create beautiful paper-mâché Easter eggs, bunnies or chickens or small baskets to place the decoration. Depending on the holiday you can change the items put there so that you can use these shelves throughout the whole year. They will not only look elegant but also give extra space and maximize wall usage.
Whether is a bespoke or flat pack, a skilled handyman can help you install or assemble one safely and securely.
Need a Handyman?
Enter your postcode to view our rates and availability in your area.
2. Easy wall and door Easter decorations
Horseshoe gift
For the last 150 years, the horseshoe has always been accepted as a lucky charm and a traditional gift that brings a little sense of magic. Most people hang it on the inside of the front door for protection, but you can also use it as a table decoration or hang it on the wall.
Easter wreath
Made of flowers, spring greens, ribbons and small decorations, these beauties can easily give new life to your front door. This ancient symbol represents the circle of life, the changing seasons and the oval shape of the Sun.
So what better way of welcoming spring into your home than decorating your front door with an Easter wreath? You can attach it by using a stylish ribbon so this way the door will stay unharmed.
Give your walls a spring makeover
If you want a more significant change, invite the spring colours to your home. An accent wall, stripes of paint or decorative wallpaper will surely give new life to any room. Our painters can deliver such paint upon your request and paint your home in compliance with your requirements. Also, they wear protective gear and will do their best to give you the desired results.
If you need a little bit more motivation to start a house renovation project, the National Home Improvement Month in April can give you that strength to #makeonechange. You can feel more comfortable, safe and relaxed at home if you make the first step and take the decision to start!
Lighten up your rooms
Another thing you can do is hang a mirror or add a new light source to brighten up your rooms. Good lighting can change the whole atmosphere in a room and combined with the right paint colour scheme can even improve your mental well-being. Hang a picture or DIY craft to add a pop of colour and a sense of personality.
3. Easter DIY crafts and seasonal prints
Easter is a great time to craft things with your children. You can make clay ornaments, draw pictures or you can invest and buy a new painting. With such a great variety of artworks available, you surely will find a nice addition that is worth a spot on your living room wall.
But what do you do if you want to hang your new DIY Easter decoration but don't have the right skills or tools for it? Don't worry as we have got you covered! Adding a little extra to your home with seasonal decoration has never been easier with a little help from experienced home renovation experts.
Easter trees with hanging eggs
The origin of this tradition dates back in Germany, but after some time this decorative element was warmly welcomed in many other countries. You can either create your own or buy one from the market. In both cases, it's good to have an idea of where to place it.
If you don't have so much space for a big one a table-size tree is the right for you. You can use small Easter trees and decorate your window sills.
Dress up your windows for spring
Take down the heavy winter curtains and replace them with linen or sheer so you can enjoy your window decorations. If you prefer to keep your privacy but still use the space under the window, consider installing roller blinds.
Need a Handyman?
Enter your postcode to view our rates and availability in your area.
Essential Spring home maintenance check-ups
The time after the Easter bank holiday is good for performing spring home maintenance checks to target the areas that need repairs. You can start the inspection with the exterior of your home as the cold weather may have damaged a lot of things.
Exterior wood constructions
Wooden decks, fences, railings, trellises and pergolas will stay in better condition and last longer if they're re-sealed or stained every year.
Deck – These constructions suffer in various ways as they get exposed to different weather conditions. Check for rotted wood, dark spots or other damages. By applying a fresh coat of varnish, you can preserve the wooden construction and give it a new look.
Shed – Spring is a good time to plan your shed construction so you can have enough time to complete the project with the Summer start. In case you already have a shed in your yard, check for signs of rotted wood, peeling paint or damaged varnish. Take into account that investing in small repairs and maintenance will keep the construction in tip-top condition for a long time.
Windows – Check the windows' condition! You might have caulked your windows before the Winter starts, but even the best products can crack, shrink and harden when it's cold outside. Re-caulking is a simple repair that will keep the hot air out during the Summer.
Window sills and kickboards – These wooden items are the most vulnerable, so if you spot any damages, take proper care of them.
Paint – Check your exterior paintwork for flaking areas. If the colour of your front door has faded or you notice signs of peeling paint, it's a good idea to consider starting a painting project. A new coat of paint to your front door or windows can completely change the look of your property. In addition, it will protect the wood underneath from moisture, mould and other damages.
Outdoor faucets, pipes and sprinkler systems – Check them for leaks but be prepared to shut the water off quickly. Often bursting pipes are situated inside the house so you may not see the problem while staying outside.
Brickwork – Damaged pointing between bricks can cause serious construction problems if you leave it out of your spring maintenance to-do list.
Interior spring checkups
Bathroom – Check the caulk and grout condition. Missing or cracked sealant around the shower or sink can cause serious leaks and water damage not only in your bathroom but in the rooms below, too. The high levels of moisture in the bathroom give the perfect conditions for mould building up.
Kitchen – Kitchen taps can be easily replaced so you can get a trendy look and be protected from water leaks. Dripping taps can quickly become a problem you can't avoid. If you notice any signs of leaks, it's better to turn to a professional plumber.
Floorboards – if you notice a damp smell or dampness in the areas around the walls, this could be a sign that the joints that support the floor are rotting. Take a close look at the floor for any signs of fungus. If you find any, you probably have a mould infestation and this requires quick actions.
Appliance checkups
Washing machine – Check the washing machine hoses as they may crack over time. Sometimes you may not notice a small leak, but this can cause serious water damage and mould building up.
Dryer – If your dryer hoses look worn out or there are signs of cracking, don't waste time to replace them. Check and clean dryer vents, too.
Refrigerator – Check the refrigerator coils and clean them if necessary. This will keep the compressor from overheating.
Ceiling fans – They easily collect lots of dust on top and need to be cleaned well. Also, ensure the proper operation of the fans.
Safety Spring Checkups
Smoke Alarms – Check the batteries of your smoke and carbon dioxide detectors.
In conclusion:
The Easter weekend can be the perfect time to renovate your home and Fantastic Handyman teams are a phone call away, so you can enjoy spending time with your family and leave all worries behind. Spring is the right time to inspect your appliances, lighting and other essentials that may need replacing. If it's time for an upgrade, consider energy-efficient options to help reduce waste and lower your bills.
---
Check also:

Home Maintenance Checklist
How to Climb a Ladder Safely
How to Install, Wire and Connect Your New Electric Cooker
How to Install Vertical Blinds Properly
---
Image source: Yuganov Konstantin / Shutterstock.com