8

min read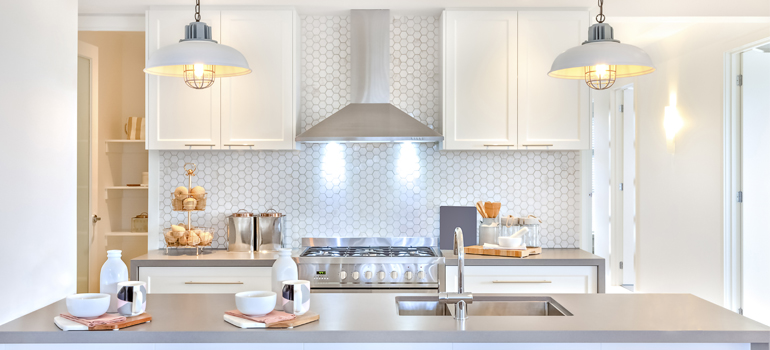 The domestic kitchen is one of the most important parts of a place you'd like to call your home. Not only is it essential for it to be comfortable, but it also needs to include everything your favourite meals would need. So, how to plan the perfect kitchen?
Interior designers have developed various ways to make your kitchen work as both a comfortable and functional place for your cooking experiments.
Here are a few general rules by Fantastic Handyman to live by if you intend on designing one yourself.
Work with What You Have
If you bought a brand new property, there should be a spare room that's meant to become a kitchen. This already gives you some space where you can get creative.
Of course, its size doesn't have to stay the same – with a large-scale preparation you might want to extend it or make it smaller. In any case, you will need the help of many specialists, such as joiners, plumbers, electricians, tilers, and decorators to get the job done.
This is why you will need to come up with a good plan first.
Need a Handyman?
Enter your postcode to view our rates and availability in your area.
List Your Conditions
You will need the help of a professional designer. But before that, it's a good idea to make a list of all the things you want in your kitchen the most. This will serve as a general baseline for the designer to work with.
You might want to mention the size of the refrigerator you want to install. Or the scale of the parties you'd like to host, or the number of people you would like to gather in there at any given time. Think of just about anything that comes to your mind.
Of course, you will face a lot of questions beforehand, so even if you have nothing in mind, you'll probably come up with something on the go. Don't be shy to tell them even your smallest or most extravagant whims – designers love to improvise.
If you renovate your kitchen in order to put your property on the market, you may wonder how much value you will add.
Put Your Moving Boxes to Good Use
If your imagination is working overtime and you've already decided what will go where down to the smallest detail, you might want to try and see how your arrangement would look like in practice… with moving boxes. That's right.
Empty your cardboard boxes and place them where your kitchen furniture should be. See if it looks comfortable. Is there enough space for work? For walking around? For working and walking while the table is occupied?
This is one of the simplest ways to decide whether your ideas are all that's necessary for your project or whether you might be in desperate need of a professional designer.
How to Plan the Perfect Kitchen Layout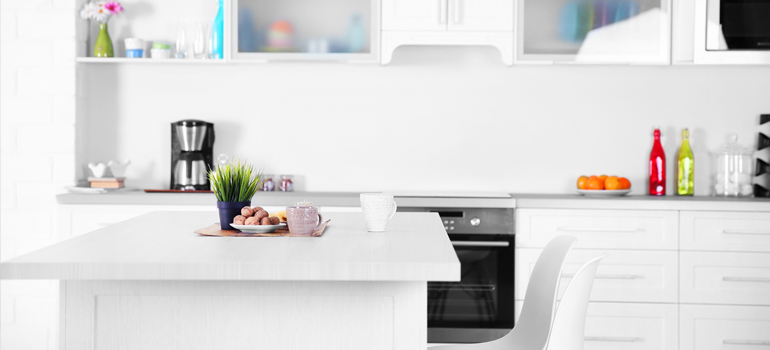 Source: Africa Studio/shutterstock.com
Once again, the layout will give your kitchen the functionality and appearance to please both you and your guests. Choose between the following:
U-shaped (C-shaped) kitchen space. This design is ideal for busy people with a lot of things to put in the kitchen, as it provides lots of workspaces. The U-shaped kitchen design allows for almost everything to be within reach. The layout usually includes a peninsula.
L-shaped kitchen space. A very popular choice, the L-shaped kitchen space gathers the entire workspace between two walls with – or without – an island in the middle. It might be difficult to achieve this if you have limited space, but in many cases, a few adjustments are all you need.
I-shaped kitchen space. The best solution for small spaces, and sometimes the only solution for small flats. Everything is set on a single wall, so it's as simple as it can get. Also, this design is quite affordable.
Galley kitchen space. The galley kitchen design usually sticks to a simple design, but it can also get very flexible. If the space of your kitchen allows it, you can add a big table with lots of chairs, or you can simply use this as your working space.
Appliance Layout
The kitchen work triangle is the ultimate design for any kitchen. It's the imaginary lines between the three most high traffic areas – the stove (cooktop install), the sink, and the refrigerator. So, placing these three things at the right spot will make multitasking much simpler.
How to Choose the Right Colour for Your Kitchen
In order to choose the right colour for your kitchen, you have to also consider the colour schemes for the remaining rooms.
Soft, neutral colours are what everyone chooses when they are not certain. Beige is a very popular choice, and of course, you can never go wrong with white.
Bold colours can come together nicely, but they're not for everybody. People tend to get tired of them easily, even if they seemed like a good idea at first. But if you're one of those souls who enjoy visual stimuli on a daily basis, go for it!
Choose shades of your favourite colour. If you already want one of your rooms to be in a certain colour, just work from there and get lighter or darker tones for the other rooms and the kitchen.
Always test your potential choices. You will definitely have more than one chosen colour, so give the wall along with experimental brush and simply observe.
Helpful Tips for Planning the Perfect Kitchen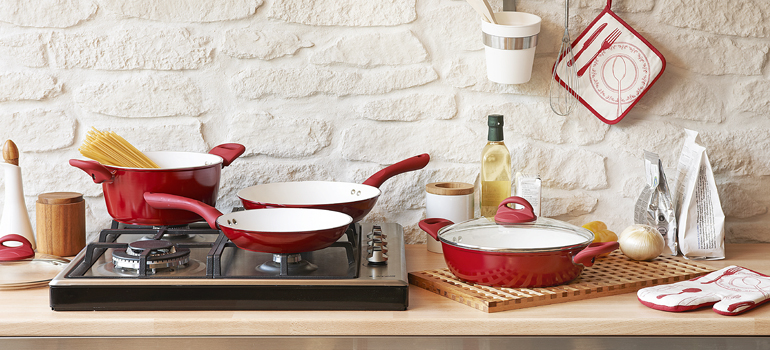 Source: daylightistanbul studio/shutterstock.com
The kitchen is not just for cooking, but also for eating, cleaning, and socialising. If your kitchen can fulfill these activities, then you did a good job. In that train of thought, here is some good advice.
Do Not Obstruct the Kitchen Triangle
The kitchen triangle consists of the food storage (usually refrigerator), the sink, and the cooker. The space between these three should never be blocked by anything. Obviously, the sink should be near the plumbing.
However, if that's not the case for your brand new home, you might need to call a plumber to fix that. Ideally, the distance between each element of your kitchen triangle should be no less than 2 metres and no more than 7 metres.
Make the Best Use of Space
If your kitchen is compact, install upper cabinets for extra storage space. Another good idea is to install a cabinet over the refrigerator.
Counter space can be extended by installing a longer countertop that goes over permanently placed appliances, such as a washing machine or a dishwasher. If your kitchen is large enough, you can also consider making an island.
Invest in Lighting
The work areas are where you need the most lighting, so make sure you add a light right above them. Pendants look great above kitchen sinks and kitchen islands. Install under-cabinet lighting to ensure that the counters have sufficient lighting for common kitchen tasks.
---
Check also:
How to Create a Reading Nook in Your Room
---
Don't Forget Ventilation
A ventilation system can be an expensive instalment, but it's worth every coin. If no one can smell what you made for dinner last night, then your kitchen is in fine shape. Of course, opening a window can help as well, but if you really want no trace of food in the air – invest.
The Right Kitchen Island
Islands are neat additions to kitchens that ultimately give them more storage and workspace. But sometimes, they can hinder the work process if they're of the wrong type or on the wrong spot. Choosing an incorrect island or placing an island in a kitchen that doesn't need one can spell disaster.
In order to avoid that, an island should be only a metre long and half a metre deep. It has to allow people to move around with no effort on their end. If your kitchen is less than four metres long and two-and-a-half metres deep, then you don't need an island.
Make Use of Professionals
A kitchen design project is a lot of work, so if you don't quite understand the technicalities behind it, then you will be in need of a professional kitchen fitter. Rely on an expert's opinion to avoid problems in the future.
Image Source: Africa Studio/shutterstock.com