5

min read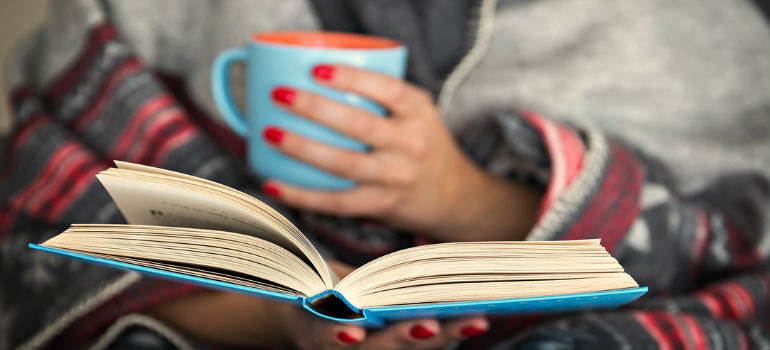 There is no better place to escape than inside of a book. Where books can be enjoyed anywhere, sometimes there is no substitute for a quiet place to read in your own home.
Comfortable, free of distraction, and a place that just feels like a room where you should be reading a book, what do you need to do to have your own reading nook at home? Less than you'd think.
What Should a Reading Corner Have?
Before thinking what your reading nook should contain, think first what it shouldn't contain. Because we all know distractions are what ruins our reading time. So, first of all, choose a place where you don't have a direct view of the TV, the computer, the laptop, the tablet, or the phone.
We'll let you have your electronic book reader only if it's a part of your reading habits. Now, we can start planning our reading corner.
A place for sitting. Choose whatever is comfortable for you. For some people a single chair would be enough, but if you're like some of us, you love to change a few poses while reading. So, pick a comfortable sofa, a blob chair, or even a whole bed.
A book shelf. If it's a reading nook, you need to have materials for reading. If you don't have a bookcase, you can make your own. More information on that, below.
A small table. It' best to have a place, where you can put your book when fishing for another. Or a place to put your tea, or coffee, or milk and cookies. Don't even think about placing your phone there!
Curtains. This one is optional. But, if you wish to isolate yourself from the rest of the room, you can put a non-transparent curtain around your entire reading nook.
Decorations. If you still have space you'd prefer to be filled with something, you can put paintings on the wall, or a plant near your sitting place.
Need a Handyman?
Enter your postcode to view our rates and availability in your area.
How to Create a Reading Nook in Your Room
If you've got all the "materials" you need, it's time to assemble, install and decorate your reading nook ideas.
Choose a corner. The reading nook is best placed in a corner of some of your room. This creates a sense of comfort. If you, however, have a room with a whole square of free space, don't hesitate to go for it. Bonus points if it includes a window with a nice view. An even better one, if the room does not contain a TV or computer.
Designate the amount of space. Since freeing a corner is a difficult task for many, it's a good idea to set boundaries for your reading corner. If drawing on the floor and walls is ok for you, go for it. Some would use stickers, others will just choose the boundaries in their head. The idea is to make sure everything you want to be in the corner will fit, along with you in all your reading poses.
Add your books. If all your books are on your reading tablet – just put the reading tablet in there. But, if you're like the millions who cannot bear reading without the smell of books, you should move a whole bookcase in your reading nook. Now, this is a difficult task. If you don't have a bookcase, you can make your own, as instructed below. Or, if you don't care that much, you can just put a mountain of books on the ground, around your sitting place. It's actually really cozy like this.
Move the comfort spot inside. Push the sitting place and the small table in their designated spots in your reading nook.
Include lights. Since you'll most probably read not just by day, but also by night, it might be a good idea to have a spot for a night lamp. This one is optional, as in most cases, the lights in the room would be enough.
Add a curtain. For the purpose of isolating yourself completely from the room, install a curtain railing on the ceiling. Instructions, below.
---
Check also:
---
How to Make a Wall Book Holder
Having a bookcase will give character to your reading corner. However, a bookcase in itself is hard to make, and if you don't have the materials, the knowledge or the expertise, you'll most probably consider the all-books-on-the-ground idea.
For that purpose, the Fantastic Handyman team is sharing here an easier option for making a wall book holder with minimum effort and materials.
Free the wall from any decorations. Make sure nothing is obstructing your book holder spots.
Gather the materials. You need a drill, at least 10 static metal brackets (at least as long as the width of your largest books), 10 (or more) bolts, a ruler and pencil for charting.
Measure the length of your largest book. Then, chart with the ruler and pencil a line, two centimetres shorter, with an A starting point and B endpoint.
Drill a hole at point A.
Drill a hole at point B.
Screw the metal brackets at point A and B.
You now have a book holder. Test it for good measure and place up to 6 hardcover books on top.
Repeat. We used only two metal brackets for this. With the other 8, you can make four more, which will be able to hold 30 books in total. If you have more space, you can add even more book holders.
How to Install Curtain Rods Without Drilling the Wall
For those who love the idea of an encompassing curtain, and, for those who have had enough drilling with the wall book holder, here is an easy way to get your curtain without having to drill the wall.
Get the materials. You need one or two curtains (whichever is to your liking), two adhesive hooks, and a curtain rail with hooks on both ends.
Stick the hooks high on the walls. Measure their exact spot according to the length of the rail.
Place curtain on rail.
Place rail ends on hooks.
Now, you can have your own reading corner where nobody and nothing would disturb you from your favourite books.
Image source: Fotyma/shutterstock.com