4

min read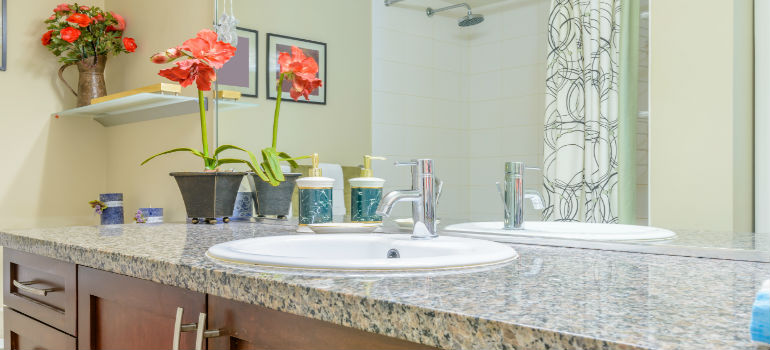 When it comes to pleasure palaces made for pampering, there is no substitute for the spa. With fluffy robes, immaculate facilities, and a sense of permeating calm, a good spa can heal you inside and out.
The only downside is watching the spa disappear in the rearview mirror as you drive away. However! Fantastic Handymen made this simple guide to show you how to make a small bathroom look like a spa.
---
Check also:

Painting & Decorating: The Novice Painter's Guide to Greatness
---
Get Spa-Like Bathroom Decor
The easiest thing you can do is get some eyes candy bathroom decorations. Some would suggest totally new fixtures, install a brand new toilet, sink and the like. But if your current ones are in good condition, all you need to make them pretty.
Here's what you can add.
Candles;
Decorative flowers;
Wooden tub tray;
Scented essential oils (rose oil is a good choice);
Elegant bathrobe;
Elegant fluffy towels;
Elegant looking bath cosmetics.
Notice, you don't even need to get something very fancy. Sometimes, it's enough for your essentials to have a good presentation.
Need a Handyman?
Enter your postcode to view our rates and availability in your area.
How to Turn Your Bathroom into a Spa Retreat
Basically, any bathroom can turn into a luxurious spa retreat if you put enough work into it. It doesn't have to be on a 5-star level like professionals can. Just make sure you go through the following steps.
Start with decluttering. First, you should remove everything unneeded away from your bathroom. Empty shampoo bottles, old toothbrushes, wrappers and basically everything you prefer not to see in there.
Do a deep clean. Make your bathroom shine from head to toe. Sometimes this is enough to create the cosy feeling.
Check the ventilation system. If your bathroom has a window, you have nothing to worry about. But a lot of bathrooms depend only on ventilation systems for drying the air. Make sure it's in working order.
Choose soft lighting. It's a good idea to replace your light-bulbs or install brand new ones that produce a softer light. The best thing a spa retreat can do to you is to make you sleepy. That's why you should aim for your ultimate relaxation. Reach out to the professional electricians at Fantastic for help.
Get a bathtub. This is the biggest and most expensive investment in your project. The bathtub is the centre of your spa retreat and without it, you don't have a spa. If you already have one – all it needs is an additional clean. If not, better go shopping. The variety of spa tub designs on the market will make your head spin. With features ranging from bubbles to jets and timed cycles, form an idea of what features will best mirror your spa fantasy.
Attach shiny fixtures. From a maintenance point of view, and if you can afford something new, now is the time to add it to your spa retreat. It can be a whole new sink, or a decorative golden lion head, spitting water into the tub. The possibilities are endless.
Make at least a small flat space. Since we decluttered, you should have some space around the tub to place other decorations or stuff you might need while relaxing. If there are no surfaces to use, bring in a small decorative table. It should be at least wide enough to hold your wooden tub tray.
Add decorations. Time to bring the small decorative ornaments we looked over in the previous chapter. Place the candles, the flowers, the towels and everything else you can find a place of. Don't put everything in if space is scarce. A spa always depends on minimalism and clutter will only take away from the cosiness.
Turn your bath into a jacuzzi. If you bought a special spa tub, then you have what you need. If you don't, you can get a portable device that will create whirls in the water for just about the same effect. Don't forget to add bath salts. Some would go ahead and use rose petals. Invest in your comfort with no restraint. Book a professional plumber if you don't want to risk the installation.
Play relaxing music. The best thing about this is you can simply use your phone. There are tons of free relaxing music for spas and massage centres online. Just upload all your favourite tracks and play them to your heart's content.
At the end of your relaxing spa day, don't forget to top it all with a nice cup of herbal tea (for cold months), or a refreshing fruit juice (for hot months).
Image Source: karamysh/shutterstock.com