8

min read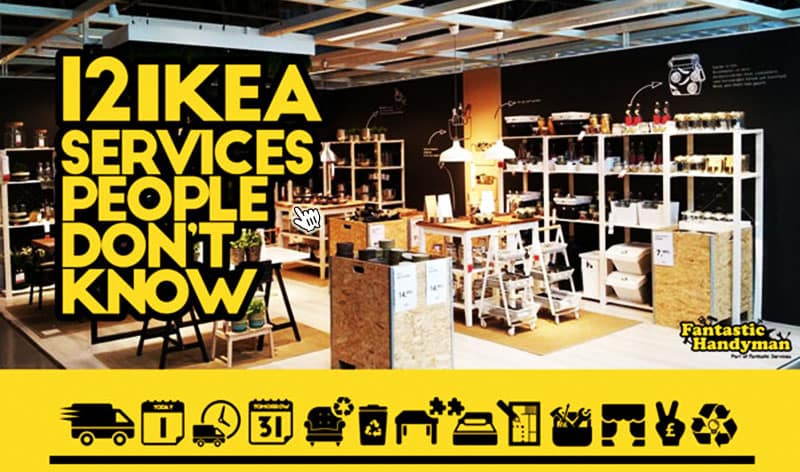 What IKEA Services are there?
Most people in London perceive Ikea stores merely as a brand for ready-to-assemble furniture, that has a nice restaurant selling Swedish goodies, but there are quite a few more most people are not aware of. The knock down furnishing pioneer has more to offer! Here are a few of the IKEA services:
"Shopping with IKEA always saves us money and it can also save you time and effort. We offer a range of services to help you with everything from putting it together to getting it home. Of course, the more you do yourself, the lower the price will be. And the more we do for you, the more you can sit back and relax!"
Ikea.com, the leading seller and manufacturer of ready-to-assemble flat pack furniture.
All written above is an excerpt from IKEA's website. This text meets all visitors on the sub-page dedicated to all their different services available in each Ikea store. There are 12 public services that the home furnishing company has to offer. Being the world's leading flat pack retailer, IKEA has a special place in the life of the average flat pack lover in London.
Need a Handyman?
Enter your postcode to view our rates and availability in your area.
The 12 Ikea Services

#1. Home delivery – Same day and Next day delivery

Your independent pick up & delivery
Your vehicle can't fit all the furniture and accessories you've bought?
You simply can't handle the the whole process by yourself?
The official IKEA home delivery description:
"Most of our products are flat packed and designed in such a way that they are easy for you to take home yourself. However, if you prefer we can deliver the same day/next day for you within the store delivery area**. We can also arrange delivery outside this area** and at a later date on selected items. Please speak to a co-worker in the store for more information. Terms and conditions apply."
– Ikea.com, Home delivery
Basically, what the fist asterisk tells you is you shouldn't hope too much and the second one – your address is not within the store delivery area. And no, I'm not being sarcastic, this is experience speaking. However forum feedback and online reviews have often rated Ikea's service as highly unreliable

#2. Ikea collection – Pick up & Delivery

You could also see this as a Collection and Delivery service but it is slightly different. Instead of wasting time throughout Ikea's enormous shops or while driving back home you could save the hassle and nerves and have it all done for you.
The Ikea collection and delivery to-do list:
Make up your shopping list of units
Place your order either with an IKEA's co-workers or a flat pack specialized company
Take care of assembly
Enjoy your new furnishing
Flat pack professionals like Fantastic Handyman and Fantastic Furniture Assembly will arrange and carry the delivery and assemblage for you. This is everything you need to know about this combined IKEA pick up and delivery service.

#3. Hire a van – Drive your new furnishing home by yourself

Delivery furniture home yourself – the IKEA has van hire service.
Because they cater for all your needs. You should note, however, that this service is not available in every store. The main benefit is the same with all ready to assembly units – to cut labor costs.

#4. Old Furniture – Recycling has been thought of

A great and unpopular Ikea service but how does it work?
All your old furniture will be re-used by a charity organization to aid people in need. The aim is a try to give it a new life with local families in need of support. In the event that any item is not reusable, it will be disassembled and recycled with the lowest environmental impact.
IKEA will take your existing bed, mattress, sofa or appliance away for you, when they deliver your new purchase for a non-profit fee.
#5. Flat pack assembly service – Montage done for you

The regular Ikea furniture shopper has two options:
Use an independent third-party company specialized in flat pack assembly like Fantastic Handyman or Fantastic Furniture Assembly and benefit all the extra guarantees.
Use the Swedish default assemblage service. According to some UK forums, it's better to go with option number one.
In both cases the assemblage will be carried out on your behalf. On top of that, the service includes 1 year workmanship guarantee and disposal of packaging in an environmentally friendly way. As a reputable handyman service provider, we can assemble units from all furniture stores in London.

#6. Kitchen planning – Build the set of your dreams

Another incredibly helpful Ikea service.
You either go to one of IKEA's kitchen-specialists co-workers who can help you to plan your new kitchen in store, or arrange for one of their approved planning representatives to visit your home and plan your new flat pack kitchen set.
Of course, a planning fee applies, but having a skillful assembler to help out with advice and knowledge has proven to be of crucial importance to the proper assemblage of any flat pack unit.
#7. Kitchen & Bathroom installation – Trust professional assemblers

A coordinated installation service for all those tricky handyman jobs:
Fitting Sinks
Fitting Taps,
Worktop Installations
Installation of Appliances and etc.
It is designed to save the customer valuable time. IKEA's installation service includes a free 5-year guarantee on workmanship and installation.
On the downside, it could cost you an arm and a leg compared to other companies, that do offer handyman services and a fantastic furniture assemblage.

#8. Curtain making and alteration service
The official IKEA alteration service.
"If you are in love with our textiles, but not do handy with a sewing machine we offer a curtain making and alteration service to help you bring new life into your home."
– Ikea.com
Bare in mind, that this service is only available throughout all London stores: Wembley, Birmingham, Warrington and Glasgow.
#9. Finance services – Ikea helps

Now, this is exceptional stuff.
Let's assume you've found the solution to create your dream home but need some help spreading the cost. In this case the Swedish company comes to the rescue by offering a range of finance options to help you build your dream.
First, there is the IKEA personal loan.
With it you can borrow between £150 and £1,500 and spread the cost over 12 to 60 months with affordable, fixed payments of £10, £25 or £40 per month. There are no hidden set-up, arrangement or early settlement fees, so you know exactly what you will repay.
Then there is the interest free credit.
IKEA offers interest free credit (representative APR 0%) on their range of kitchens, including flat pack kitchen installations.
To take advantage of this scheme you would have to spend £1,500 or more on kitchens, other furniture, or accessories, for the 12-month interest-free credit option, or spend £3,000 or more for the 24-month option.
Other conditions apply!
Check with IKEA's services page for more details.

#10. Buy a roof rack – Charming and efficient

This service comes in handy when units (or some of them) you intend to buy are too bulky to fit in the boot of the car and yet, you neither want to hire a delivery van, nor use an IKEA home delivery service.
In order to sort that situation out, the Swedish company has teamed up with another firm, who offer all IKEA customers a preferential rate when buying their inflatable roof rack online in preparation for a visit to a store.
As usual, terms and conditions apply.
Unwrap,
Fill with air
Load your new furnishing
Take it home
Enjoy
#11. Recycling of electrical and electronic equipment
The company has pledged full commitment to eco-friendly furniture, products and philosophy in general
Furniture or other products should not end up at land fill. The company is committed to reducing waste of any and all hazardous materials, coming out of its flat pack furnishing or any other product sold on the behalf of Ikea.

#12. Take goods home today

Why are trying to convince us that this is an actual service?
Well, it is not. IKEA simply says they sell their reusable blue bags to help you take your goods home.
Thanks a lot!
While those bags are indeed very useful, they are not a service, duh!
Conclusion:
This concludes our examination of all IKEA services. How many did you know about beforehand? Unless you are a former employee of the company or some IKEA aficionado, I would be surprised if the number was greater than 5.
Nevertheless, well done for reading this far. I hope you learned about at least one IKEA service you had no clue about. To summarise, there are 10 different in-store IKEA services plus another two which are in their essence a product, not a truly an Ikea service but still an option most people are not aware of.
Important: Not All Ikea services are available worldwide. The listed services are available in each IKEA store in London excluding present and future pick up and delivery points.