9

min read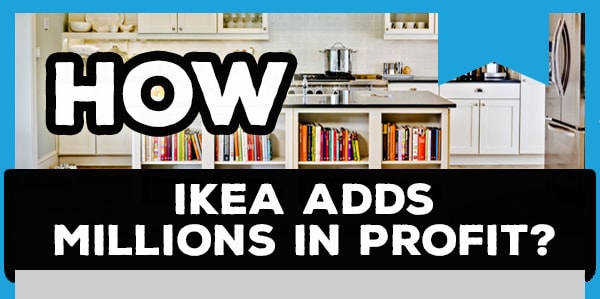 Here at Fantastic Handyman, we take our job at assembly very seriously, and in this train of thought, there's no way not to take a look at the company that made this job a separate profession.
IKEA – the ready-to-assemble pioneer!
Since the late 1950's,  the ready-to-assemble furniture retailer has been constantly innovating. IKEA pushes the boundaries of its potential as a brand, and the potential of its products and services.
Where IKEA comes from and what lays ahead?
What are IKEA's goals?
What vast markets await?
How IKEA improves flat pack furniture to keep it affordable?
How IKEA balances quality, cost and price?
"Mobilis in Mobile"

IKEA is constantly on the move
The key to IKEA's success is the company's pursuit of efficiency. The retailer adjusts and improves its flat pack units along with their business practices. IKEA's restless pursuit of improvement, starting from the designing to in-store inventory, shipping and off-shore transportation to the most negligible (or so it might seem), insignificant basic ready-to-assemble furniture components, manufacturing, and assemblage.
"We are engineering costs out of our value chain that doesn't contribute anything"
– P. Agnefjäll, Chief Executive
IKEA itself is knock-down all the way. If part of the puzzle does not evolve, nor help the flat pack quest – it is dismantled to its pieces, which are sieved and re-assembled if possible. The "rest" departs the flat pack montage line for good!
IKEA – Turnover, Sales and Growth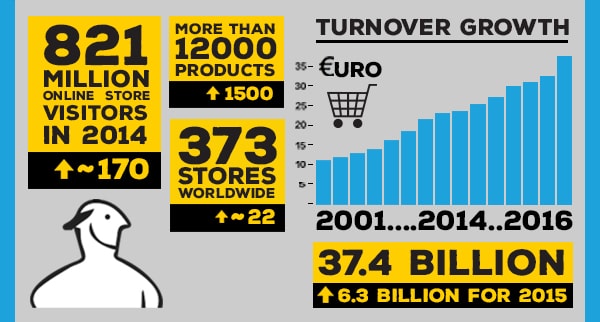 IKEA Stores, IKEA Products, Raw Numbers and What Lays Ahead?
It is both surprising and fascinating for a company as old as the RTA furniture pioneer to be this vital, innovative and thriving. IKEA flatpacks improve constantly in order to cut costs to 'the next level'. This business policy of "improving all grounds" goes along with an ambitious goal. The flatpack sales aim to reach $56.18 billion in turnover by 2020.
The thrilling part is the fact that these numbers relate to a 74% growth compared to 2014! Bare in mind that IKEA is said to be among the handful of top brands for home furnishing worldwide!
What do the numbers say?
IKEA aims at 10% in growth per year;
Until 2013 IKEA sustained growth of about 5% per year;
Growth in 2013 / 2014 was only 3% of turnover;
In 2015 IKEA rose by 11.2%;
How long can IKEA sustain growth and… profit?
How will IKEA achieve massive flatpack sales growth?
Growth in new markets for interior, exterior design & MORE.
Develop current markets by building new stores – new IKEA locations along with new store sizes.
Expand and improve the wide flat pack furniture range.
Track, assess and improve all processes of flat pack furniture manufacturing, transport and of course – the sales funnel.
Behold IKEA! Vast new markets await!
The flat pack furniture pioneer is taking over the world!
In 2015 chief executive Peter Agnefjäll announced that sales increase has been distributed fairly among most markets, excluding some such as Germany, United States, France, United Kingdom and Italy, which are the handful of top performers. Despite economic stagnation, Southern Europe reported "positive development", while the North America market kept on growing at a steady pace. One of IKEA's latest target markets – South Korea, reported larger sales and turnover than initially expected.
"We have a great year behind us and have invested considerably in sustainability,
in creating a better offer as well as being more accessible,"
– P. Agnefjäll, Chief Executive
IKEA flat pack furniture will continue to evolve.
Tens of new stores await day 1 and God knows how many IKEA stores are to come, but one thing is for sure: the company is on the path of success.
IKEA in India!
This vast market might hold growth potential that can actually justify IKEA's extraordinary target of 56.18 billion in furnishing turnover. As it seems, Ingvar Kamprad's company is more ambitious than ever before! The company has bought land for its first home furnishing store in Hyderabad.
The flat pack pioneer has plans to build and set up at least 25 IKEA stores there. The one obstacle is government requirements of 30% local sourcing.
How IKEA balances flat pack furniture cost, price and quality?
"Flatpacks", "Ready-to-assemble" or "Knock-down" units stand for more than mere furniture delivered in parts for you to put together and mount/place. The abstract idea of "put it together" extends far beyond the simple Ikea assembly and nothing relates better than numbers and raw examples:
Efficiency, Numbers and Flatpacks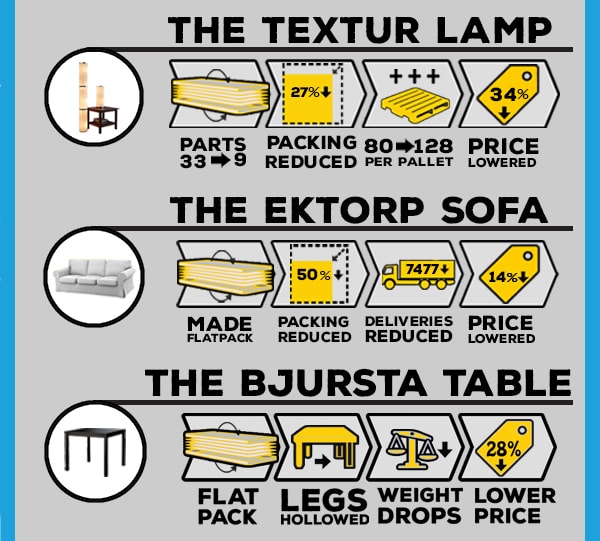 Here is how 3 well-known IKEA products demonstrate how the flat-pack concept  goes hand in hand with cost efficiency:
The Bjursta Table
The Textur Lamp
The Ektorp Sofa
Bjursta
The Flat Pack Table:
28% cheaper than 2011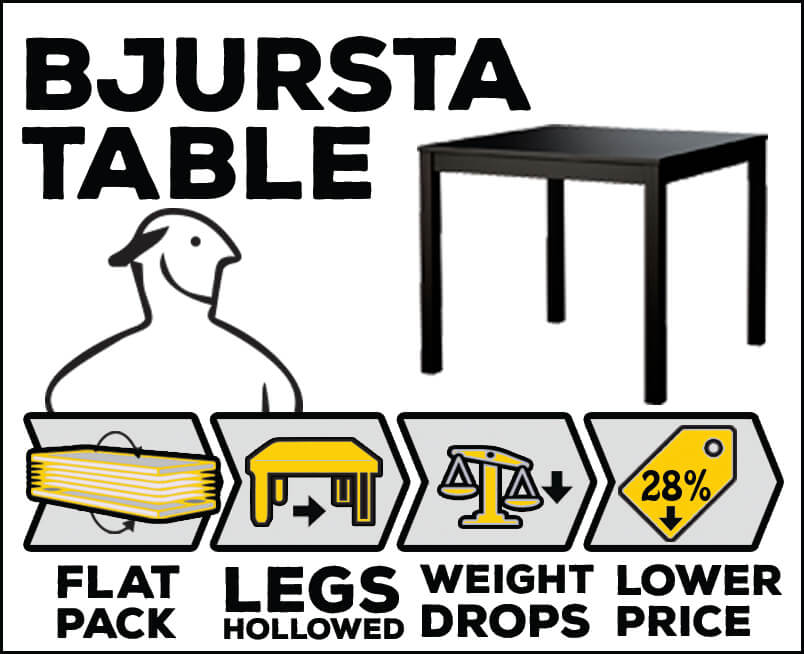 Thanks to Innovation The Bjursta Flat Pack Table is Now 28% Cheaper than 2011:
Before Bjursta sold for about €279
Now Bjursta is sold for about €199
How Ikea delivers a drop of 28% per unit?
It is really simple and here's how it happened:
The Bjursta dining table lost its solid legs for hollowed ones.
Flatpacks now have hollow legs instead of solid ones. At first, it might not be the holy grail of furniture but give it a moment. Just think about how much weight and timber usage has been reduced? Now you put it together. A breakthrough like that might even affect levels like IKEA home & same day delivery if put to fullest potential!
 Texture
The Knock-down Lamp:
34% Cheaper than 2012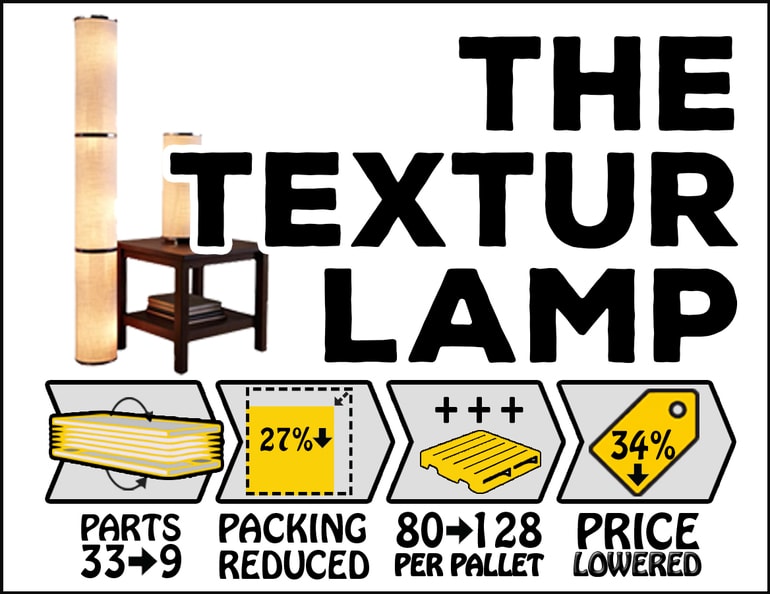 Improved as an RTA Unit, the Textur is 34% cheaper than 2012!
How the Textur flatpack price got 34% cheaper?
Initially, these flatpacks were built in 33 pieces, but IKEA's engineers reduced the number down to 9 alone. By evolving Textur's flat pack assemblage, the company reduced weight and packaging with 27% per unit, thus recording an increase of another +48 lamps per pallet, which results from 80 units to 128 flat-pack lamps per pallet!
That's how efficiency affected the IKEA delivery, resulting in the total sum of  7% in pricing per each RTA unit.
EKTORP
The Sofa Evolved as a FlatPack:

As flat pack, it got 14% cheaper in 2011 than 2010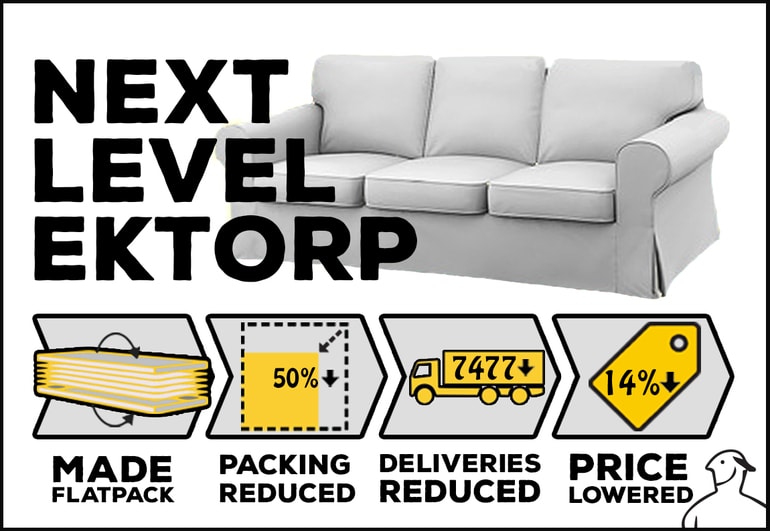 At first, the cosy Ektorp sofa was sold and delivered as a single unit, one piece. Nothing to put together or assemble in any way. Designers at IKEA realised that if a non-dismantable unit evolved to a flat pack – made out of a mountable hinge back, ready-to-assemble arm rests, easy to place legs, and pillows, IKEA will manage to optimise cost on several levels.
The result is more than impressive!
By evolving to an RTA unit, the Ektorp sofa size dropped 50%.
Let's slide further down the Ikea flatpacks funnel and find out how IKEA improved efficiency a dash more. The company earned the equivalent of more than 7500 pick-up & collection trucks for IKEA delivery. Thus lowering another 15% from the final price per unit. Now evolved into a piece of flat-pack furniture, the Ektorp unit saved or should we rather say earned the staggering sum of €1.2 million in costs for a single year!
When it comes to home furnishing, flatpacks, and IKEA products in general, efficiency is clearly a top priority at IKEA. The company takes no hostages, nor leaves space unused. Especially when packing RTA units! The handful of flat packs reviewed is merely a fraction of what the big picture has to show. It's a well-known fact that the flat pack pioneer uses more than 1% of the global commercial wood supply.
"We have had products we have actually destroyed by doing too much knock down… It's always a balance."
– Allan Dickner, Packing Manager

The main goal of each and all IKEA furniture designers is to build efficient and easy to assemble, aesthetic units. Otherwise, there is no way for furniture products to even get close to IKEA's shelving. According to Wall Street Journal, flat pack designers use dedicated software to accurately calculate the balance of shape and size.
Why do something twice?
The journey towards productivity has its roots dated back in when the company was founded. According to Ingvar, Älmhult (birth village) did not have many resources available and people had to share what they had with each other.
Back to flatpacks now.
After an RTA IKEA product covers all standards for packaging and assembly efficiency – it moves on to IKEA's test lab facilities.
Do lower prices stand for lower quality?
IKEA is not a leader in home furnishing for nothing.
IKEA will never let down on quality
Back in 2014 the company ran a special department, fully dedicated to the management of all A to Z processes in flat pack furniture manufacturing and supply.
"We're focusing on quality as an enabler of lower cost,"
– Karen Pflug, Head of Quality
IKEA's labs for testing flat pack furniture: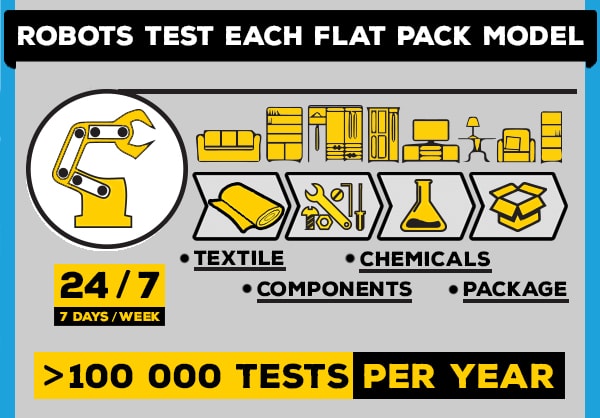 The city of Älmhult – the location of the first IKEA store. Now it is also home to one of many IKEA labs for testing flat pack furnishing. Whenever IKEA's designers are done with a new flat pack unit, it is put to extensive procedures intended to establish the quality, performance and reliability of furnishing. In the last couple of years, the company experienced one too many safety accidents, which led to furnishing testing on a whole new level.
"We are not here today, we're in 2018,"
Mattias Andersson, Furniture Test Lab Management
Just imagine IKEA's testing facilities. Units like the Ektorp are constantly hammered by wicked robot arms, tables undergo pressure testing and wardrobes survive in a flat pack hell. Beds, mattresses, cupboards, drawers, all units pass series of tests in order for the company to fully assure montage and assembly sturdiness, dismantling stress tests and God knows what more. According to rumours, the flat pack pioneer will expand the testing facility in Älmhult up to 6.500 sq.ft. Thanks to its extensive testing, the furnishing company recoups about a handful of products OFF its shelving each year.
"We are not here today, we're in 2018…
We're focused on securing quality throughout the production rather than assessing it at the end."
– Mattias Andersson, Furniture Test Lab Management
In order to catch up, set new standards and expand existing trends plus demand, the furnishing giant has built and put together more than 100 testing facilities worldwide! I.e. ITTC is the first IKEA owned test lab outside Sweden. Also, the IKEA Space10 in Copenhagen seems like a fun place to visit. The approximate number of all tests knock-down flatpacks go through is more than 100 000 per year! Bear in mind that IKEA adapts to laws and regulations both freshly approved or altered up to 10 times per month!
How IKEA Flatpacks Thrive and Evolve?
THE FULL INFOGRAPH