4

min read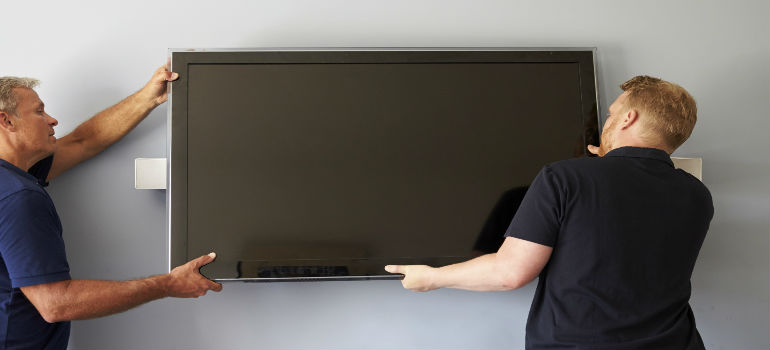 Mounting your flat screen TV on a wall comes with a mountain of benefits – it saves spaces, enriches home decor, improves picture visibility. Unfortunately, the installation is not the easiest thing. In this guide, the Fantastic Handyman team will give you a few pointers about how to mount TV on wall by yourself.
Tools You Need
Since you'll be doing the TV installation by yourself, you need to arm yourself with the right handyman tools.
Pencil;
Level;
Screwdriver;
Power drill;
Stud finder;
Tape measure;
TV mounting kit.
There are a few types of mounting kits to choose from, but not all are available for every type of TV.
What Wall Mount Fits My TV?
Fixed mount. A standard stationary mount is made to hold a flat screen TV against a wall. It can't be adjusted by any angle and may not be compatible with some models.
Tilting mount. Similar to the standard mount, however, it's possible to adjust the vertical angle of the TV installation. You can place your TV higher on the wall, and tilt it to your preferred position.
Slim mount. This one gets its name from the fact that it leaves the minimal possible space between the wall and the back of the TV. It can come in a fixed, or tilting variety.
Cantilever mount. This one is a whole retractable arm which allows a dynamic position of your TV, both horizontally and vertically. It's ideal for spaces with multiple viewing locations.
Under cabinet mount. Space-saving mount, positioned, like the name says, under a cabinet. Ideal for kitchens and cubicles and it's better used with small screen TVs.
Ceiling mount. Attaches TV to ceiling instead of a wall.
Platform mount. This one is for older TVs, not flat screens. It's a platform where a small screen old-timey TV is placed securely. Very often used in hospital rooms.
Need a Handyman?
Enter your postcode to view our rates and availability in your area.
How to Mount TV on Wall
Find out what TV bracket fits your TV. Unfortunately, not all brackets can fit any TV, so you should look for some information. You'll find it easiest if you know the VESA measurement of your TV. If should be written in the instructions manual. VESA is the measurement between the threaded screw holes on the back of your TV. If you can't find it in the manual, just measure it yourself.
Decide where you want your TV. Find the best place to place your TV. According to the location, you should choose what kind of wall mount you would need to make it work.
Attach the bracket to the TV. Locate the mounting holes on the back and attach the mounting arms, using the bolts provided in the mounting kit. Don't tighten them too much, and do not use the drill on the TV.
Attach the bracket to the wall. Use a stud finder to locate the studs in the wall that will hold your TV. Mark the locations with a pencil. Use a drill to attach the wall bracket plate. Screw the bolts provided in the wall mount kit.
Connect the cables. Depending on the wall mount you have chosen, you will need to find some creative ways to connect and hide the cables from view. With a fixed wall mount, you'll find it easiest. You might need another pair of hands to help you with this. One should hold the TV, while the other connects the cables.
Place the TV. It's a good idea to ask a friend to help you with this one, as you may end up with a broken TV. While one of you interlocks the brackets, the other should hold the TV. Do not let go of the TV, unless you're absolutely certain every point of connection is firmly locked.
Test installation. Test all the connections and make sure your TV works properly. You might need to do some adjustments. Make sure to follow the manufacturer's instructions from beginning to end.
Never wall mount your TV if your house has metal studs, as they would not be able to hold the weight properly. You'll end up with a broken television. And, of course, if this is too much work for you, you can always call professionals to mount your TV right and safe.
Image Source: Monkey Business Images/shutterstock.com