11

min read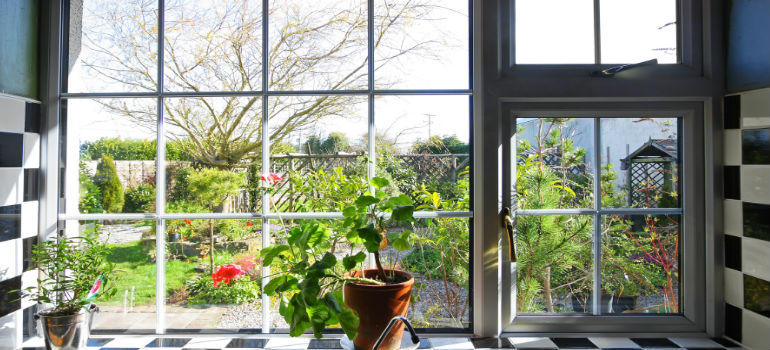 You really, really want to build one of those? Get an attractive addition that will surely help you spend more time in the open!
What is a Conservatory?
A conservatory is an exterior room often with glass roof and walls. Usually the best part of your garden, it is often called a greenhouse, or a sunroom. It is best to be situated in a place in the yard that gets a lot of sunlight and fresh air. Many manage to put it to use during the winter as long as it's well heated and insulated.
Conservatories are popular with upper middle class and wealthy households.
Do You Require Planning Permission to build a Conservatory?
A conservatory is a part of the permitted development rights, so before starting, you need to comply with the following conditions:
The construction must not be more than 50% of your "Original House" *.
There are no raised platforms, verandas or balconies.
It's no higher than the highest part of the roof.
Height must be less than 4 metres.
It doesn't front or obstructs any public road.
It doesn't cover more than 1/2 of land the house is sited on.
A single-story extension at the rear of the house must not extend more than 3 metres beyond the rear wall if it's an attached property and 4 metres if it's detached.
Listed building consent may be required if the work is proposed on a listed building.
No planning permission is required as long as you follow these rules. Failure to do so could result in a hefty fine or the demolition of the structure.
Need a Handyman?
Enter your postcode to view our rates and availability in your area.
---
Original house means:

The house as it was first built or as it stood on 1 July 1948 (if it was built before that date). Even though you may not have built any extensions to the property, somebody might have done it before you.
---
Building Regulations and Conservatories
Since 1 October 2008, to build a conservatory is considered permitted development. You do not need to apply for planning permission, but you have to comply with the following limitations and rules:
No more than 1/2 of the area surrounding your building would have any additions or other buildings.
No extension forward of the principal elevation or side elevation fronting a highway.
No extension can be higher than your roof.
No more than 3 metres of depth for a single-story rear extension and 4 metres for a detached property.
No more than 4 metres in height for single-story extensions.
No more than 3 metres of depth for a rear extension of more than one storey, plus ground floor.
No more than 2 metres of the boundary of 3 metres for eaves.
Eaves and ridges can not surpass the height of your property.
Side extensions have to be single-story and not surpass 4 metres and 1/2 of your "Original House" width.
The angle of your roof extension has to match the one at your house.
No verandas, balconies or raised platforms.
Forbidden building of rear extensions bigger than a single-story, of exterior cladding and side extensions on "Designated Land" *.
If you have a listed building, consent may be required.
---
Designated land means:

National parks, The Broads, Areas of Outstanding Natural Beauty, Conservation areas, World Heritage Sites. Check if your property is "a new build". New-builds often come with extra restrictions.
---
Generally, building regulations apply to extensions, but your conservatory will be exempt as one if the following rules are met:
The conservatory must be separated by quality walls, windows, and doors.
The floor space should be less than 30 square metres and built at ground level.
It should have a separate heating system with its own controls.
Any glazing or electrical installations must meet existing building regulations and for the sake of safety, by a qualified electrician.
The construction must not block ladder access to rooms in the loft.
It is highly recommended not to build a conservatory if blocks in any way access to windows and loft conversions, especially if meant to serve as a rescue exit. Any new structural opening between your conservatory and your home will be bound to building regulations approval, regardless of your conservatory being an exempt structure or not.
Need a Handyman?
Enter your postcode to view our rates and availability in your area.
How to Build a Conservatory Base?
First, you need to make sure you have a proper base. Once you establish that, the rest would be like putting together a puzzle.
Measure your space. Ensure the dimensions and measurements are correct on your base plan.
Dig the conservatory foundation. Dig in the shape of your measured conservatory and remove all wasteful soil that's in your way.
Level the earth. You need flat ground in the shape of your conservatory as your working area.
Add concrete. Concrete the foundation to the correct height approx 4 course down from the existing house damp course.
Wash the surrounding area. You need to keep your surrounding area clear of any garbage or obstructions.
Build up to the damp course. This will be your conservatory floor level. Make sure it's even.
How to Build a Conservatory Wall?
With the right tools and knowledge, you too can build your own conservatory in your backyard. One step at a time and lots of good effort.
Build a dwarf-wall. The dwarf-wall starts from the base and up to no more than one-meter height. Place the bricks and wait for the cement to dry.
Place external sills. Position the sills on top of the dwarf wall. The pre-ordered sills should be a customised measurement to your property.
Secure all frames. The first frame needs to be secured to the house. Do the same for the rest starting from the house and connecting outward, until they meet from the two sides.
Put up doors. Door fitting can be tricky, but with your pre-ordered supplies, the door should fit right into place, like a piece of a puzzle.
How to Build a Conservatory Roof?
Place the roof ridge. Your custom made roof ridge needs to be placed right on top of the frames. It should be the exact measurements you need.
Add roof rafters. Fit the roof rafters in between the roof ridge and hip bars.
Fit glazing sheets.
Fit guttering. Just like your house, the conservatory also needs gutters in order to keep the roof well maintained for a longer period.
Add decorations. Whether you want decorations or not, depends on whether you decided on a traditional or modern conservatory style. The modern ones are more minimalistic. Choose whatever you find better for yourself. Install yourself or hire a professional painter or decorator.
---
Check also:
---
What Types of Conservatories Are There?
Victorian. One of the classics. It involves a bayfront, pitched roof and ornate roof ridge.
Elizabethan. A classical style designed to complement rather than complicate, that can include attractive features such as a three-sided pitched roof.
Orangeries. Styled on the aristocratic buildings used for growing exotic fruit this style is constructed with solid brick pillars and large windows that are glazed.
Extensions. This style adds space and value rather than just being an add-on to your home.
UPVC/ Aluminium/ Wood. Conservatories can be built from a variety of materials including the three previously mentioned. Your taste, needs, budget, and timescale will affect the one you choose.
Need a Handyman?
Enter your postcode to view our rates and availability in your area.
How to Choose Flooring That Will Suit Your Conservatory?
People use conservatories for a variety of applications and choosing the right type of flooring depends on what the main subject of your usage will be:
Lot's of traffic IN&OUT – If you have foot traffic in and out a lot, then you should choose and install a type of flooring you could easily clean and repair, for it should withstand severe wear and maintenance.
Warmer days use – If you plan/have a less solid shed you want to use mainly during the warmer seasons, then you should choose materials that cool of easier, i.e. granite or other stonework.
Cosy chilly days – On the contrary, if you need flooring that will help you warm up your conservatory, then insulation will be a priority. This means you should use wood, laminate or both, along with cosy carpeting, not to mention how good these will soundproof your conservatory.
---
Check also:
How to Make Your Own Drying Rack for Clothes
---
Pros and Cons of Different Types of Conservatory Flooring?
Real wood flooring:
Often pricy and vulnerable to temperature amplitudes. Drastic heat or cold could cause expansion and contraction, along with splits and warps. Wooden flooring definitely comes with a dash of compromise. A great solution to the many downsides of conventional wood is the so-called engineered wood, which consists of different layers of timber. It is more efficient but a bit pricier as well. An advantage here is that you can sand it, refresh it, and prolong it's use.
Laminate flooring:
Laminate is simple to install but rather inexpensive, compared to the other options listed above. It is easy to montage and maintain, as long as you know what to do. You could have almost any finish you prefer – from wood-alike to tile, stone and more.
Tile flooring:
Tile comes in a wide range of materials and looks. It is simple to maintain and does not wear off easily. However, a sturdy installation will require a professional tile fitter. The most popular choices are stone and ceramic tiles.
Stone tiling:

Granite – a rather pricey option, but a great choice for people into looks and natural materials.
Sandstone – a wide variety of finishes along with great resilience. It is known to absorb water and moisture, but at the same poses risks in terms of slippery injuries.
Limestone – great looks, but requires proper sealing prior to usage.
Slate – a wide range of colours and decorations, but requires more effort due to installing and maintenance specifics. You not only have to seal it but repeat if parts flake (which is often the case).
Marble – amazing looks, but fastidious in terms of interior design.

Ceramic tiling:

Terracotta – pleasant for the eye, but does not last as long as ceramic tiles do. It is still a great choice if you're planning to instal underfloor heating. Terracotta is great for absorbing heat.
Quarry – usually naturally mined, but now quarry is mostly made out of clay.
Porcelain – arguably the best choice out there. It is durable, water-resistant, comes with minimum maintenance required and looks amazing! The one downside here is pricing.
Glazed ceramics – easy to maintain, water-resistant and last in the long term. Unfortunately, it does not offer the best looks out there.

Cork flooring:
Eco-friendly, renewable and comes at great pricing. Cork is great in terms of insulation and touch. The perfect choice if your conservatory is meant to be a playground for children. If properly treated with suberin, sealed cork can handle both water and sunlight in the long term.
Vinyl flooring:
Vinyl is easy to both maintenance and install. It comes in a variety of finishes and it's simple to clean up. The downsides here are the easy wear-off, due sunlight, and high surface sensitivity to indentations.
Carpets and Rugs:
Both are warm, easy to install/remove and clean. Usage and wear are up to you. If your conservatory does not have a hallway area, you will definitely have to clean it on a regular basis. In fact, it is carpets and rugs that are the most common choice for conservatory flooring.
Bonus tips:
Solar Roofing
It will surely help you control the temperature within the room regardless of the time of the year. It also reduces UV rays.
Specialised Glass
Again your options are many. There is toughened glass as well as windows that can't be removed from the outside. You can choose from leaded window panes, etched glass and a whole host of attractive designs.
Sloping Group Foundations
A trustworthy and experienced conservatory builder will be able to work with the most difficult of foundations, even those that are built in the sloping ground. Leveling the floor and providing steps or a slope for access is the only way to get around the problem.
Image Source: Julietphotography/shutterstock.com