5

min read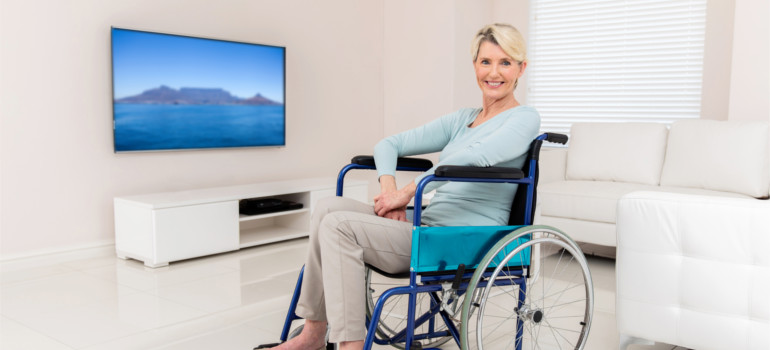 Source: michaeljung/depositphotos.com
Contents
Since disability awareness day is approaching, it seems a good idea to learn more about how to make home wheelchair friendly for friends and family with disabilities.
Fantastic Handyman offers you a short list of some suggestions to help enhance the quality of daily life for a disabled person you care about.
How Much Does it Cost to Make a House Wheelchair Accessible
This depends on the general state of your house. You may have covered the main points already, or you may need to do a thorough renovation. For a quick inspection, make sure the following conditions are met.

Access through the front door with a wheelchair is possible.
All door frames are wide enough.
Flooring is not obstructive.
Wash-room is comfortable.
Kitchen is comfortable.
These are the main tasks that would make your home accessible for a person in a wheelchair. Depending on the state of your house, possible remodelling can be divided in
high cost, medium cost and low cost projects
.
How to Make Home Wheelchair Accessible
Fit entrance.
Fit doors.
Fit flooring.
Fit bathroom.
Fit kitchen.
How to Make a Doorway Wheelchair Accessible
Install a ramp on your doorstep. If there are stairs, you definitely need a ramp and railing from both sides.
Widen door frames. It's crucial to be sure that the wheelchair can easily fit through every door in your house. Standard wheelchairs are 635 mm wide, and for comfortable access doors should be 900 mm wide. If the door is too narrow, you need to make a mild renovation. Sometimes, removing the door frames is enough. If not, you'll need to call a renovator.
Remove door steps. In order for the wheelchair to get in every room unobstructed, you better remove all door steps, and basically every uneven part of the flooring.
Put a lower peep hole.  If you have the habit to look through the peep hole when someone rings the doorbell, it would be a good idea to place it on eye-level of a person in a wheelchair.
What Type of Flooring Do You Need
In order to navigate at home in wheelchair without problems, you need the proper flooring that won't wear off too fast. Here are a few reliable examples.

Hardwood flooring. Not only beautiful and classy, but also one of the most durable materials that will serve for years to come.
Laminate flooring. Laminate is also a beautiful material to look at and very durable. Scratches come off easily with the right cleaning product.
Ceramic Tiles. The best flooring for kitchens and bathrooms, because of their water resistance. But, but if you fight a color or pattern you like, you can even install them in living rooms and bedrooms. Just make sure they are a 5 cm square, as larger ones are easier to damage.
Vinyl flooring. Another good water resisting and durable option. Also, easy to install like laminate.
---
Call Your Fantastic Handyman Today!
---
How to Make Bathroom Wheelchair Accessible
Since not every bathroom in by default made for wheelchair accessibility, it might be best to consult with a renovation company for a full design makeover. The most important parts of a wheelchair accessible bathroom are:

Space for turning. The bathroom needs free space of at least 1500 mm so a wheelchair would be able to turn 360 degrees.
Space in front of toilet bowl. There needs to be free space of at least 1200 mm in front of the toilet bowl.
Rails around toilet. There need to be at least three rails for holding.
Low wash basin. The standard for the wash basin is to be at about 800 mm above floor, but this can be customized according to the height of the person while on wheelchair.
Rails around bath. Just like with the toilet, there need to be strong rails for holding.
Rails around shower.
Here is a full guide of a
wheelchair accessible bathroom and kitchen design
.
How to Make Kitchen Wheelchair Accessible
Just like with the bathroom, the kitchen would need to be made by certain standards you can rely on a renovator to know. Here's how a kitchen should be equipped.

Circulation space of 1500 mm for ease of turning. Just like in the bathroom, the kitchen needs to be spacious for easy navigation.
Low work surfaces. All counters, including the kitchen sink should be easy to use from a sitting position. Their height from the floor should be at about 600mm, but that can be customized to the individual.
Base storage units. Since it's hard to reach up for cupboards, storage units need to be made right above ground. For this they have to be compact and wide enough to keep all household products and kitchen cutlery.
Low appliance placing. In order to be able to use the oven, hob, washing machine, dishwasher, they should all be models with side opening and operating, as well as be within reach.
Sockets and switches within an arm's reach.
Medium and Low Cost Fix Ups
Install handlebar grips in bedrooms and other key places.
Change door knobs to lever handles for ease of access.
Install a low clothesline.
Lower door handles, light switches and curtain pull cord.
Install a panic button or other emergency contact system. Some models may be a button worn on a necklace which can automatically call for family members.
Install a staircase lift if it's a house with stairs.
A lot of these projects are costly, but good news is, if you're disabled and live in UK, you can apply for government help with home equipment. More info on the matter
here
.

AzListed – Human edited directory that offers webmasters a choice of a free or paid website submission.