11

min read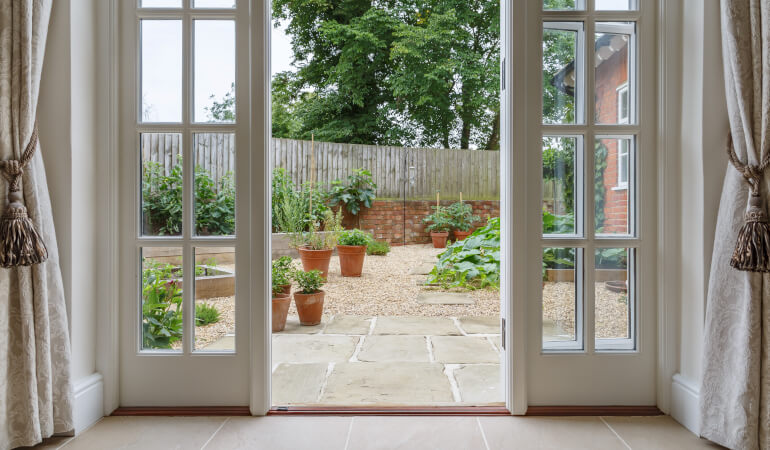 Patio doors are a wonderful addition to any home, offering a seamless connection between your indoor and outdoor spaces. They allow natural light to flood into your living area and provide a picturesque view of your garden or backyard. However, along with all these advantages come concerns about security.
How can you ensure that your patio doors are not vulnerable to break-ins? Well, there are some measures you can take to improve your partio door's security. Read on to find out what they are!
How secure are modern patio doors?
The standard factory-installed latches are often of low quality, so they become an easy target even for inexperienced burglars. These latches lack quality and security, making them simple to bypass.
Furthermore, patio doors are typically operated on tracks rather than hinges, so they can be opened without breaking through a latch by simply lifting the door off its track.
Additionally, criminals can throw heavy objects, such as bricks, through windows or other glass elements on the door.
With all these in mind, you surely question yourself: what is the most secure patio door?
Read also:

How to Protect Your Home From Burglars
How to make your patio door more secure
So whether you choose French doors, bifold doors or sliding patio doors, you should select carefully and think about some extra security steps to take. Here are some safety measures you can try…
1. Improve door frame strength
When it comes to protecting your patio doors, the quality of materials used for the frames can make all the difference. While some frame types are more robust than others, stronger frames are almost impossible to break by intruders compared to weaker ones. Moreover, durable frames offer superior protection against damage and will give you peace of mind for your home's security.
2. Choose the right glass for your patio doors
Shatter-resistant glass – Some types of glass are designed to prevent shattering, such as laminated or safety glass. They work by holding the shards in place if the glass is broken, preventing potential intruders from entering through the frame. This makes these types of glass ideal for sliding doors and patio doors built with security in mind.
Single vs. double glazing – A sliding door is constructed from a large pane of glass, so selecting the right glazing will not only affect the security of your doors but it will also affect the energy efficiency of your home. An intruder can easily break a single pane of glass to gain access to your home. However, double-glazing and triple-glazing will prove a bigger challenge.
Shatterproof film – To enhance a home's security, installing shatterproof window film is an effective way to strengthen the patio door and make it harder to break in. Furthermore, this type of window film provides privacy by only being viewable from one side while also protecting against UV rays. With the added protection of shatterproof window films, there is no need to give up outdoor views while still keeping intruders away. Shatterproof film can be found in various designs – both transparent and tinted – allowing you to choose whichever style fits your needs best.
3. Obscure the view
In addition to selecting a good quality sliding glass door, there is also another point to consider – visibility. Sliding doors have large panes of glass, which can give any potential intruder an easy view into your property.
In addition to glass film, you can use curtains or blinds to cover the patio door. Close the curtains and blinds when you are away or want to feel more secure at night so that no one's prying eyes can get a glimpse inside.
Read also:

How to Install Vertical Blinds Properly
4. Have a secondary lock installed
The most effective way to ensure the security of a patio door is by having a secondary lock fitted. Different types of locks can be placed either on the top or on the bottom of the door, where the stationary glass meets the sliding glass.
This placement is beneficial because it prevents force-open attempts while the door is still providing airflow when slightly open. Additionally, when placed at the top of the frame, small children are unable to access the locks.
If you have sliding doors, consider getting a multi-point central rail lock. If you have French doors, a mortice sash lock or hinge bolt will do the trick. You can also install anti-tamper locks or anti-snap cylinders as additional protection against break-ins. For your French doors, you can add top and bottom deadbolts or shoot bolts on both doors.
Important: Make sure to choose a lock that has been tested against break-ins.
Need a trustuworthy locksmith near you?
Enter your postcode to view our rates and availability in your area.
5. Consider installing patio security bars
Adding a security bar, door jammer, or a lock that bolts to the top of the frame from the door are just a few of the steps you can take to improve the security of your patio door. Two such options worth considering are security bars and door jammers.
Door security bars
When it comes to security, most people opt to install bars on their hinged doors, with sliding box sections and Patlock among the popular choices nowadays.
The Patlock device combines a security bar and a lock, and the Master Locksmith Association has already approved it.
All you have to do is slide the covers over the handles and click them into place – easy as that! To remove it, you can click the release button. For added convenience, there are no keys or difficult-to-recall codes required this particular security bar – and from inside, it blends in perfectly with existing handle designs. But from the outside, its distinctive branding ensures attention is drawn to its presence as an additional deterrent.
A sliding box section is a great budget option for those seeking a more secure solution for their patio doors and handles. Despite not quite matching up to the Patlock in terms of execution or design, it remains an effective security alternative.
It features a bar that can be attached over the handles, then fixed in place with a padlock – meaning only those holding the key may open them. What's more, this bar prides itself on quality construction and fits all shapes and sizes of door handles.
Regardless of what type of adjustable door bars you select, they can generally be used in several ways. They can be placed beneath the handle and kept in place with pressure. For inward-opening doors only, they can be used to jam the door shut by pressing their rubber foot firmly against the floors.
For sliding doors, the bars go between the wall and the sliding door, and it's better to choose some of the hardware-mounted options.
They can be placed behind sliding patio doors to reinforce them and make sure they stay shut even when their locks have been compromised. In both cases, this simple protective device will help keep your premises safe from intruders.
Door jammers
Door jammers are a great option for those who want some extra protection when staying away from home. They are installed at an angle on the floor, approximately one inch away from the entrance.
Depending on the type of jammer, they can be attached to the doorknob or require a screw to create pressure and fit snugly in place. A bonus is that many models provide a quick-release feature that allows users to get out of a room quickly in case of an emergency.
Check also:

Guide to Enhancing uPVC Door Security: Tips and Best Practices
6. Give patio door rollers & tracks a try
Security tracks are an excellent choice when you wish to enhance a patio door's security. The metal bar sits on the track of your sliding door, which prevents it from moving.
There are two main varieties, with pressure-held bars as well as Charley Bars that can be mounted using screws and easily swing in and out. This last type might be advantageous for households with kids, as they cannot be removed easily.
7. Get a door brace for your French doors
If you are planning on leaving your house unattended for an extended period, perhaps for a summer vacation, you can install security braces in the tracks to prevent the door from being opened from the outside.
A security brace is an effective tool for protecting French doors from forced entry. It is designed to be incredibly sturdy and prevent any opening by holding the doors in place. Even with broken glass or unlocked, the brace will keep the doors securely shut.
Need a reliable handyman close to you?
Enter your postcode to view our rates and availability in your area.
What are the most secure patio doors?
Now let's also take a look at the most common types of patio doors out there and their security features.
French doors
The top position in the list of secure patio doors is kept for the French doors, and it's for good reasons.
Their main benefits are the central locking system, the usage of hinges and pivots and the sturdy door frame. Compared to sliding doors, French doors have hinges and locking mechanisms on each single door, which make them more secure.
Still, despite the good design, the most important aspect of having secure French doors is the proper installation. If the French door's hinges are not well secured, they can be easily unscrewed by a burglar.
Bifold doors
Bifold doors are a popular choice mainly because of their design. They can be secure if you choose a bifold made out of durable materials and triple-glazed glass. So, despite the security of basic French doors, you can be sure the levels of security you will get with the bi-fold doors will be higher as long as you invest in quality materials.
Sliding doors
As mentioned before, sliding doors often do not usually have the hinges and locking mechanism on every door, which is a normally a feature of the French doors. Also, another vulnerability of sliding patio doors is that they can be lifted off their tracks.
When choosing the right type of door, consider a few things. These include glazing type, quality of doors, as well as how secure the locking mechanism is and whether the door and mechanism have been correctly installed.
Bonus security measures to take:
Firstly, when you leave the house or go upstairs, always make sure to lock your patio doors and do not leave the keys in the lock. In fact, it's a common problem to lock out because the key can be slightly turned and prevent you from entering your home.
Install motion sensor security lights outside of all entrances.
Opt for installing retractable or fixed security grilles as they can be used for both inward and outward opening doors.
Close any blinds or windows and ensure that any valuables are out of sight so that potential burglars cannot see them and plan to target your property accordingly.
Invest in a good alarm system. Taking proactive steps to secure your home should always be a priority. Go one step further by putting in place a monitored alarm system. Not only will this provide protection for your patio door, but other elements of the property, such as windows or the main entrance, too.
Install motion sensors on doors and windows. When it comes to protecting your home, you have a range of electronic options to choose from. For example, door sensors can be installed as part of a larger home security system. They will sound an alarm or send a notification directly to your phone in the event of any intrusion. Additionally, glass break detectors are available for sliding glass or French doors. These easily installed devices will detect broken glass and sound off an alert should this occur.
Read also:
Burglar-Proof Your Home: 10 UPVC Window Security Tips
Takeaways
Invest in installing secondary locks.
Use security bars, door jammers, grilles or bolts. You can use curtains or blinds to limit the view from the outside, especially when you are not at home.
Do not underestimate the importance of quality materials and professional installation when it comes to patio door.
Change the factory-made locks with quality ones.
For extra protection, you can install a CCTV system and keep your whole property secure.