6

min read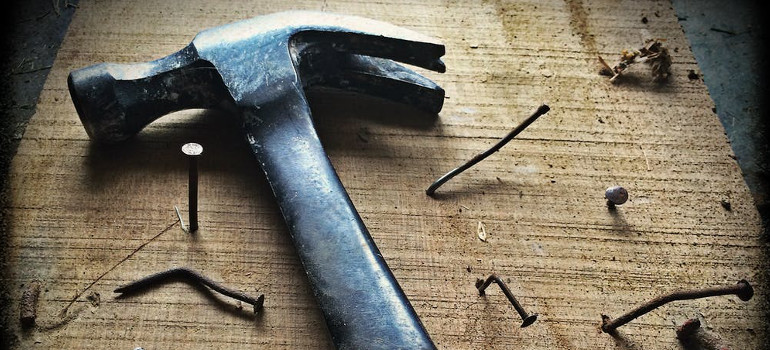 Wood floors are a beautiful addition to any home and are often recommended for those with busy family lives – which may come as a surprise for some given how much damage life, in general, can cause to our home, whether it's kids, dogs or clumsy adults!
One of the greatest things about wood floors is that they can be sanded and refinished multiple times over the years instead of being replaced, which is helpful should any of this damage occur to them, or even if you just fancy a change.
We have teamed up with online flooring retailer Luxury Flooring & Furnishings to create a guide on sanding your floor, from start to finish. But before you begin, here is a list of what you will need:
Goggles
Dust Mask
Ear Defence
Brush/vacuum cleaner for the floor
Sander (both a 'drum' and 'edging' sander if possible. If you are using both, double the amount of sandpaper)
12 sheets of 24 grit sandpaper
8 sheets of 40 grit sandpaper
8 sheets of 80 grit sandpaper
5 sheets of 120 grit sandpaper
Optional: Woodstain (if you wish to colour your floor)
Varnish (any gloss level – but satin finish is recommended for contemporary looks, minimised glare and less visible imperfections)
Brush for Varnish
If sanding is part of a full decoration effort, leave skirting board work and painting etc until the end so the dust does not ruin your efforts.
How to Sand Your Own Wood Floor: Preparation
Before you start, clear the floor of any furniture, décor, curtains and other objects that are touching the floor or may interfere with the job. If possible, remove any doors in the room to avoid potential damage. If not, it will be fine to carefully work around them.
Next, ensure there will be no risk of damage to the sandpaper or sander by scanning the floor for any protruding nails, staples or screws.
Remove staples and screws as necessary, and hammer any nails into the floor – around 2mm beneath the surface. Once you are sure the floor is smooth, you should clean it by vacuuming, then wiping with a damp cloth and waiting for it to dry. If there are any gaps in the floor, it is recommended to fill these with papier mache.
How to Sand Your Own Wood Floor: Protection
There are two layers to protection, these are known as personal protection, and the protection of your home. Be careful not to overlook these to save time and effort, as health risks could be posed, and any damage will not be worth it.
Start by closing/sealing windows, doors and vents, as dust can easily escape and damage furnishing in other rooms and even pollute the atmosphere. This can be dangerous if you have any children, pets or there are tenants with breathing problems.
Plug sockets and other nooks and crannies should be covered with masking tape or anything that else that works, as again damage and danger may otherwise result.
For your personal protection, open as many windows as possible to minimise dust pollution, and wear a dust mask, goggles and ear defense.
During the job, ensure you watch your footing and that you will not trip over the wire from the sander.
Again, do not overlook these, as this is arguably the most important aspect of the job.
Need a Handyman?
Enter your postcode to view our rates and availability in your area.
How to Sand Your Own Wood Floor: The Process
The most essential tip here is to sand with the grain, not against it. If there is any one thing to remember about sanding floors, this is it; otherwise, the finished job will look unprofessional with unsightly scratches.
If possible, use an edging sander for the edges of the room, and a large drum sander for the remainder of the floor. If you are unsure about which would be best for you or don't have access to both, speak to a professional. This is a job worth completing well, so it is recommended that you do this before beginning.
Start by using 24 grit, then 40, then 80, then 120 grit sandpaper. This is for one of the sanders, so if you are using both, you will get through twice this amount.
The less course paper (24 grit) as a starting point to ensure old layers are removed, and gradually moving up helps finish the job without ruining the floor by over-sanding that causes excessive roughness.
Do not be tempted to skip the finer paper as this sacrifices professionalism and ease of maintenance. Ensure however that you do unplug the sander before changing paper for personal safety purposes.
After this, make sure the exit route you take won't spread too much dust around other parts of the house.
How to Sand Your Own Wood Floor: Varnishing
Congratulations, you have sanded your floor! But that's not the end. To ensure longevity and a hard, durable finish, you will need to varnish the floor.
To start, vacuum or brush away all dust left behind from sanding so the floor is varnished smoothly. Next, simply brush your varnish of choice over the entire floor.
Again, this should be in the direction of the grain for best results. If you wish to colour your floor, however, before varnishing you would need to apply a stain first and wait for this to dry. Be aware this could take around 6-8 hours, with some brands asking you to wait for 24.
Read any instructions before purchasing to ensure this fits your timescale and needs.
As for varnish, any gloss level is fine, but we recommend one with a satin finish to ensure shine and glare reduction and a better appearance through lack of visible imperfections. You should varnish as soon as possible after sanding the floor, as it is otherwise unprotected. Repeat the process for three coats, or four if in a high traffic area.
After 48 hours or when the varnish has cured (some manufacturers recommend 24 hours), return your furniture to the room.
---
Check also:
---
How to Sand Your Own Wood Floor: Aftercare
Once you have sanded and varnished a floor, it is a shame to let the hard work be wasted. For maximum longevity, regularly vacuum and wipe your floor with a damp cloth. This is the only maintenance really needed and will ensure you can enjoy your beautiful new floor for a very long time.
If you are unsure about how to sand your floor or unconfident about doing the job, then always consult a professional. This will save you time, ensure that the job is done properly, and make sure your floor retains its beautiful look and quality.
For solid wood, engineered, parquet, laminate or vinyl flooring, please visit Luxury Flooring and Furnishings.