5

min read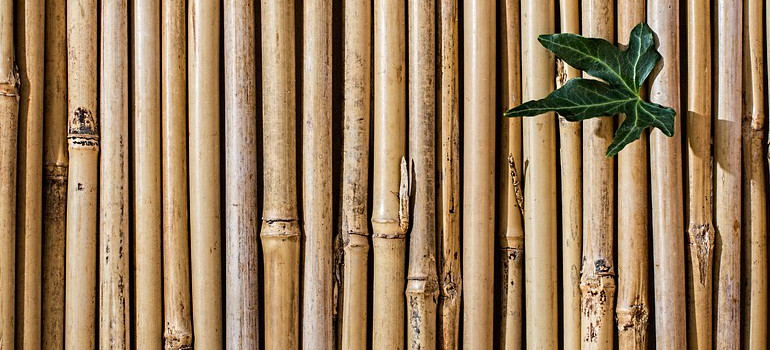 With the rise of eco-friendly alternatives of… just about anything, here is another popular vote for all eco-friendly DIYers. Incorporating bamboo into your property will make you forget about other materials such as hardwood, laminate or vinyl.
Why Bamboo?
It's popularity started in China since bamboo grows there is abundance. With the right processing, bamboo can be a strong and sustainable material for flooring, furniture, and just about anything you can imagine being made of wood. It's a cost-effective alternative, not to mention environmentally-friendly since bamboo grows much faster than other trees.
How to Incorporate Bamboo into Your Home
Bamboo furniture. A fantastic choice for making furniture. Bamboo can easily be used to make any kind of design furniture, from quirky to the most classic models. The possibilities are endless.
Bamboo art. Bamboo is also capable of making unique artwork you can hang on your wall, or place in a strategic corner of your room for aesthetic. It can be painted in vibrant colours or left all natural, in both cases creating a stunning artistic feature for your home.
Bamboo doors. Bamboo doesn't shrink or swell like wood does, which makes it ideal for constructing doors. While bamboo is actually a type of grass, it's sturdy and can be used for just about anything you would imagine being made of wood. The durability would be just as long.
Bamboo flooring. Should you decide to use bamboo for flooring, you'll be amazed at how affordable the installation will be. Bamboo is durable, depending on the process it can be harder than red oak, and comes in a variety of textures. You will be pleasantly surprised.
Bamboo wallpaper. Yes, bamboo can also be used for the production of wallpaper, mostly in classy, simplistic patterns. Bamboo wallpapers feature natural materials laminated into a heavy paper. However, bear in mind that bamboo wallpapers are easily affected by moisture and hard to clean afterward. Which is why it isn't recommended for bathrooms and kitchens.
Bamboo curtains and beddings. Bamboo is also a great material for making textile products, which are naturally anti-bacterial, anti-fungal and odor-resistant. Perfect for people with allergies. Bamboo curtains also have an insulating effect. However, bear in mind that bamboo textiles are expensive and not as easy to find in your local supermarket. Bamboo beddings are very comfortable to sleep in, especially for people with allergies. They're available in all kinds of colours.
Need a Handyman?
Enter your postcode to view our rates and availability in your area.
How to Incorporate Bamboo into Your Home Kitchen
Bamboo cabinets
We mentioned that bamboo is not the best wallpaper for kitchens, however, a bamboo cabinet is a very beautiful feature, coming in all kinds of natural patterns, a favorite for the minimalistic taste.
Bamboo countertops
Bamboo countertops are becoming more available, and experience has shown, they are usually purchased for large kitchens and more specifically – for kitchen islands. Designers tend to choose a darker colour for this purpose in order to contrast to an otherwise light kitchen.
Bamboo blinds
Just as bamboo is available for curtains, so it is available for kitchen blinds too. Not only that, but it can also insulate. Most common patterns are used to go with the beautiful kitchen island countertop.
Bamboo kitchen accessories
There is a wide variety of kitchen accessories made of bamboo, including spoons, forks, spatulas, trays and cutting boards. It's proven that their durability is a lot longer too. They don't need additional care either, just wash with warm water – bamboo is a natural anti-microbial material. However, never put bamboo cutlery in the dishwasher or microwave, as that can damage them.
Bamboo towel racks
Bamboo can add a touch of nature to your kitchen decor as a towel rack, or a decorative bar, depending on your kitchen design. Designers tend to use bamboo if they want to give a kitchen a more Asian flair.
---
Check also:
---
How to Incorporate Bamboo into Your Home Garden
You can use bamboo as a replacement material on anything from your floors to your furniture, indoor as well as outdoors. Check out these four ways to incorporate bamboo into your outdoor living experience.
On the deck or porch. With a quick finish (just like you would do with wood), you can use bamboo for your deck or porch and not worry about the elements.
For patio furniture. Since bamboo can be used for furniture, you might as well put it in your garden. Garden furniture made of this material is beautiful and durable, not to mention lightweight, which is a plus for when you need to carry it.
For privacy screens. If you wish to make a privacy screen to keep the gossipy neighbours from looking into your yard, you can easily use bamboo. Screens are much lighter too.
Growing bamboo. If you're still reading, then you must have already fallen in love with bamboo. If you'd wish to grow it in your yard, the good news is, it's fairly easy. It is a non-invasive plant and once it grows, it brings an appealing diversity in your garden. However, be aware that bamboo has the tendency to spread vigorously, so better do a good research before starting.
The Fantastic Handyman team is here to help you make your home better than it ever was. Call us if you need installation of new bamboo features and just sit back and relax.