5

min read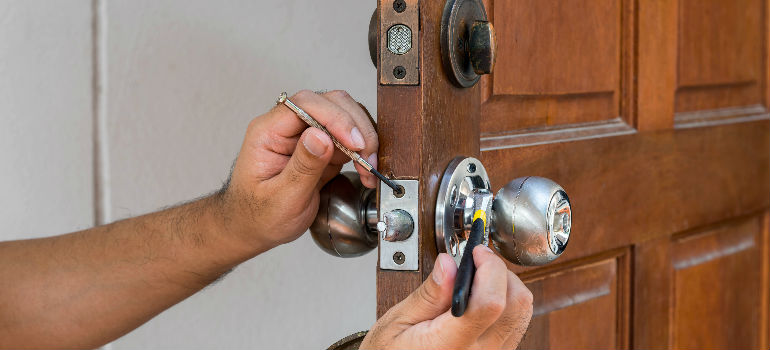 It may seem like something small if you just think about it, but choosing the right door for a room or for the entrance of your property can prove overwhelming.
This is mostly because people don't expect to have so many variables to choose from. So, let us present you with a quick list of the most commonly used doors.
Types of Doors to Consider for Your House
Wooden doors. Because of tradition, satisfying longevity, and cheap prices, wooden doors are still most often used today. They can be placed at almost any location, especially exterior ones.
Glass doors. Glass doors are custom-made to fit in specific locations. They are mostly designed for business properties like offices, convenience stores, and many others. In private properties, they are mainly used for paneling and are usually partly glass and partly wood or some other material. Using them for entrances is not recommended, but they can help improve indoor aesthetics.
PVC doors. Poly Vinyl Chloride – the main element of PVC, it's mostly used on windows for insulation, noise canceling, keeping insects out, while its durability in bad weather makes it a very popular option. They are lightweight and very easy to install, but should not be used as entry doors.
Steel doors. Steel is a very efficient and sturdy option for both your property's exterior and interior. These doors can be solid or hollow. They are widely used as entry doors or even as additional entry doors as they are very strong and hard to break. As a result, many people feel safer from burglars with a steel entry door. They are long-lasting and require little maintenance.
Aluminum doors. A lightweight option with a very high success rate in resisting harsh environmental conditions. Aluminum is not affected by termites and has a very long durability period. Comfortable for interior and exterior locations alike.
Fiberglass doors. Fiberglass is strong, light, insulating, and non-flammable. It is also said to be one of the most hardened materials with low maintenance costs. Doors made of fiberglass can be used for interior and exterior purposes, including property entrances.
Bamboo-jute composite doors. The most eco-friendly alternative to wood made entirely of bamboo and jute. Bamboo is the fastest renewable plant in existence. Combined with jute, you get a board that's water resistant, corrosion resistant, and termite resistant, not to mention biodegradable.
Check also:

Guide to Enhancing uPVC Door Security: Tips and Best Practices
How to Remove an Old Door
First things first – the old door must be removed. Depending on your hinges and whether or not you want to reuse them, here is what you can do.
You have to unscrew the hinges from the door in order to remove it from the frame. This way, you can use the same hinges on the new door.
You can unscrew the hinges from the door and from the frame if you prefer not to use the same hinges. Of course, you will have to use the ones provided with your new door.
Need a Handyman?
Enter your postcode to view our rates and availability in your area.
How to Place Hinges on a Door
Here, we are going to explain the basic steps of attaching brand new hinges on your door frame and new door.
Mark the hinge positions on the frame. New hinges may also mean they won't fit in the same holes as the old ones did unless, of course, you bought identical ones. That's why you should measure and mark the right spots they should be placed for maximum support.
Mark the hinge positions on the door. The easiest way to mark the best position is to simply lay the new door on top of the old. If they are identical in size and shape, you can simply mark the spot like this. If not, measure the most appropriate distance, according to your markings on the door frame.
Cut hinge mortises. Use a chisel to peel off a small layer of the door where you're going to put your hinges. Try not to cut too deep – the cut needs to be as thick as the hinges. First outline the part from all sides, then use a hammer to chip away the piece. Do so on all places where you will put your hinges.
Drill the holes. Once you have your mortises, mark the position of the screws by placing the hinge on the mortise and dotting the holes through with a pencil. Drill into the marks at the appropriate depth.
Screw on the hinges. Set the hinge into the mortise and screw the hinges tightly to the door. Test the final result to make sure they are holding the door well enough.
---
Check also:
How to Protect Your Home from Burglars
---
How to Fit an Internal Door
Place the door upward against the frame. When doing so, the hinges you already put on the door should align with the markings you made on the frame. If not, you can adjust them.
Drill holes into the frame. This is only done if your frame never had any door until now or if the holes of the old door hinges do not align with the new ones. Mark your new places and drill your new holes.
Screw the loose part of the hinges. It's a good idea to have someone help you hold the door in place, while you screw the hinges tightly.
Test your door. If your door is swinging easily after all your hard work, then it's a job well done. If not, you can remove the screws and look for a better spot to attach the door. Sometimes, half a centimetre is enough to make a difference.
Install a door handle. You'll need your instruments to drill some more holes at the side of the door and position your door handle or door knob in the right place. Stay tuned for a more detailed blog post on that.
To fit a new door in your property can be very easy with the appropriate tools and education. But if you don't have enough free time for that, you can always rely on a professional renovator for help.
Image Source: Kawin Ounprasertsuk/shutterstock.com