4

min read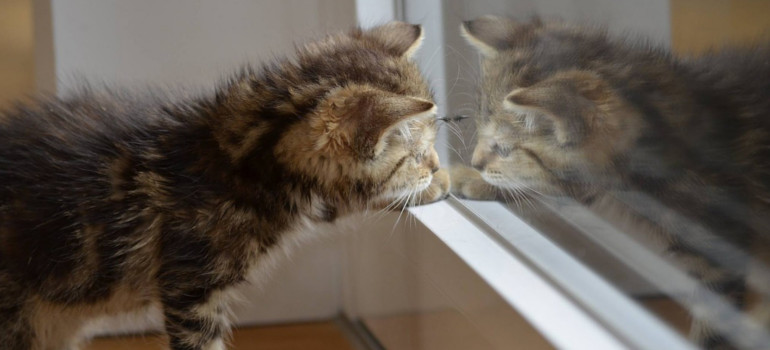 If you have a cat that likes to be outdoors, you most probably have started to get annoyed at the constant meowing for you to open the door and get them in or let them out… only to have your cat change its mind in the last second.
You can avoid all of this if you simply install a cat flap on your door.
Why Does Your Cat Need a Cat Flap?
Most of us keep our cats indoors all the time, but not all cats are happy like this. They are mammals and predators who love open spaces and the thrill to hunt, socialize and explore. Learning to use a cat flap will give your cat the freedom it wants and will generally be happier and less prone to anger against its owner.
Types of Cat Flaps
Classic. A two-way pet door that can be easily used by your cat at any time of the day and night. Unfortunately, it can also be used by your neighbour's cat, so if you don't have a problem with that, this is all you need.
Lockable. This type has the additional function to be locked, as in-only, or out-only mode. If your cat is back in the house in the evening, you can lock it so it doesn't go out anymore, or you can lock it the other way in order to prevent other animals from coming in, or against bad weather.
Infrared. An infrared cat flap comes with a certain key you can attach on your cat's collar. This way it will unlock only if it's your cat in front of it. This device will also keep other animals out of your house.
Magnetic. Magnetic cat flaps have a similar benefit, only use a slightly different way to work for your cat alone. Still, if your neighbours have cats with similar magnets on their collars, they might also be able to come in.
Microchip. Microchip cat flaps work by reading either an electronic tag on the cat's collar or one which has been embedded under the skin by a vet. These are individually recognised and means that only your cat can enter. These cat flaps are also the most expensive.
Need a Handyman?
Enter your postcode to view our rates and availability in your area.
How to Fit a Cat Flap in a Wooden Door
Once you've decided your cat is in desperate need of its own personal door, you can purchase one from the internet. Now, it's time to install it.
Measure. In order to ensure that your cat can come and go with ease (including as it grows), position your cat flap at about 10-15 centimeters from the floor. This is the average belly height of a cat. Mark this height with a pencil in two places in the middle of the door.
Drill. Cat flaps come with a paper template that shows you where you need to drill. Drill a hole in each corner of the template. Once drilled, these holes will allow you to cut out the shape of the cat flap.
Saw along the lines. Close the door and use a jigsaw to cut from one hole to the next.
Smooth with sandpaper. Once the jigsaw is off, remove the cut wood and use sandpaper to smooth the edges.
Drill the screw holes. With the front of the cat flap in position select a bit that is slightly narrower than the screws and inserts it into the drill. Drill on each of the four pencil marks until you reach the other side of the door.
Screw together. Hold the front in position and ease the four screws into their holes. On the other side of the door, place the back of the cat flap over the protruding screws and attach the nuts to the screws.
---
Check also:
---
Introducing Your Cat to the Cat Flap
It may take some time in the beginning, until your cat realizes she can use this "high-tech" device to her advantage. And, even then they might not be very interested in it since most cats have proven they don't like the feel of the flap and the noise it makes.
You can help them get used to it, by keeping the flap open and urging them to pass through it with a treat. Let them do this a few times going out and a few times going in. Next, do the same trick a few times with the flap closed. It will be harder if the cat was never introduced to the outside of the house before.
So be patient. Once your cat is used to its private entrance and exit to the house, it will start using it on a daily basis. Might even bring a friend home to play.